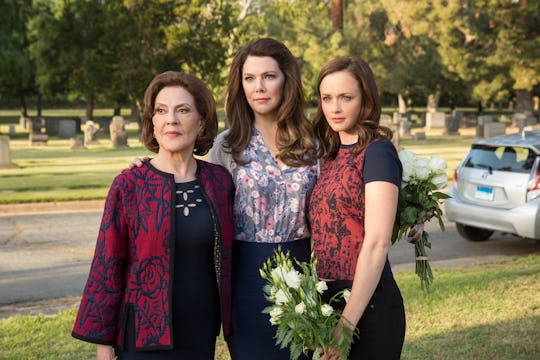 Robert Voets/Netflix
The 'Gilmore Girls' Netflix Revival Trailer Is Here, & It Will Make You Feel Things
Few revivals are as hotly anticipated as the upcoming Gilmore Girls revival on Netflix. Though the show wasn't cancelled too soon and didn't have an unhappy ending, there were complications that made its final season unsatisfying for many fans. Series creator Amy Sherman-Palladino and her husband, executive producer Daniel Palladino, didn't work on the last season and they were so integral to the show's style and tone that many believed it didn't feel the same at the end. With Sherman-Palladino back at the helm for the new episodes, it already feels like Gilmore Girls is back at its best. Now the newest Gilmore Girls trailer for the Netflix revival is here, and it is going to make you have all the feelings.
The trailer provides everything a dedicated fan could want from the show: the quips, the pop culture references, and glimpses of almost every beloved character. The relationships between the three generations of Gilmore Girls – Emily, Lorelai, and Rory – are front and center, while each woman deals with figuring her life out. They each seem adrift in their own way. The usually ambitious Rory is aimless, Emily is dealing in the wake of Richard's death, and even Lorelai seems uncertain about the state of her life.
Watching the trailer makes it feel like no time has passed at all since the series ended. Despite the contemporary references (some of us are still not quite used to a thoroughly modern Gilmore Girls) the tone hasn't changed at all, and every detail is perfect. There are poptarts and town festivals. There's Luke bemoaning the state of Rory and Lorelai's diet, and Suki creating a minor catastrophe in the kitchen. It's all here, everything you missed. But the lighter fare is balanced by a deeper, more emotional heart that shows not everything is picture perfect for the girls of Stars Hollow.
Perhaps the storyline most likely to make you cry is Emily trying to move on after Richard's passing, though even that has its share of laughs – and features Emily tornado-ing through her house in a t-shirt and jeans (!!!!!) while she clears out the clutter. Meanwhile Rory and Lorelai both seem to be drifting, no longer sure of the futures they had once been so certain of. But luckily both women remain as close as ever.
There are so many delightful little surprises scattered throughout the new trailer (for example: Jess!!!) that November 25 can't come quickly enough.