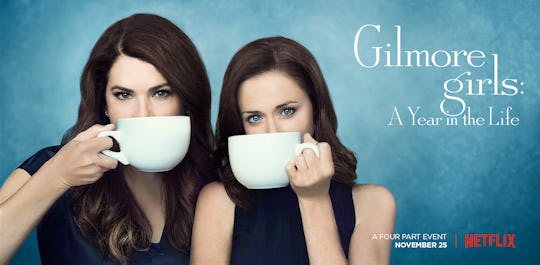 The 'Gilmore Girls' Revival Art Has Been Released, So What Do The 4 Seasons Mean?
Team Jess, Team Dean, Team Logan... buckle up, because the Gilmore Girls Netflix revival show, Gilmore Girls: A Year In The Life: key art has just been released. The show will be diced into four 90-minute segments, covering winter, spring, summer and fall. Many, many familiar faces will be returning to the show, including Lauren Graham, Alexis Bledel, Melissa McCarthy, Scott Patterson, Kelly Bishop, Keiko Agena, Sean Gunn, Milo Ventimiglia, Matt Czuchry, Liza Weil, Jared Padalecki and Yanic Truesdale.‌
A teaser was released showing Lorelai and Rory talking over coffee and pop-tarts, as they have done many times before. The trailer plays with pop culture references and brings up Amy Schumer, but tells us nothing about the plot to come on the four part event (yet, that hasn't stopped fans from examining Lorelai's ring finger, which seems to be missing a ring from Luke). We're also not shown any direct hints of what's to come during the amusing exchange between mother and daughter. However, we we can look at past seasons to surmise what will happen during this revival.
Winter
"The holidays are a good time to pick up with this family story because families usually come together around that time" Alexis Bledel (Rory) told Entertainment Weekly when commenting on why the show begins in winter. The winter also calls for a New Year, which matches all the new memories to be made. Perhaps Lorelai and Rory will revisit the Winter Carnival this season like they did in an episode from 2005, or another Snowman building contest.
The Gilmores also have a bunch of cute little Christmas traditions, like putting red and green M&M's in their cereal. And from the amount of times egg nog is mentioned on the show, we will likely catch Lorelai chugging from the carton as she watches TV.
Spring
Spring is known as a time for rebirth, so maybe Rory and Jess will rekindle their old flame in this portion. Love is usually in the air, so we'll just have to wait and see if Rory and any of her past boyfriends will inhale. There is also a possibility that the cast will recreate the Spring Fling Festival, but seeing how much hay went into creating that, I doubt it.
Summer
Ah, another season, another festival. If the Gilmore girls don't make it to the winter or spring fling festivals mentioned earlier, maybe they will catch the Annual End of Summer Madness Festival, as seen in Season 3, damn these guys have a festival for everything in Stars Hollow.
Fall
We've seen Rory as a pilgrim in the past, so maybe she will dress up again during the Stars Hollow parade. Also, it would be awesome to see Lorelai sniff the corpse flower mentioned in the teaser. But, let's not forget, Gilmore Girls flourishes in the autumn season, so whatever does happen will be amazing.