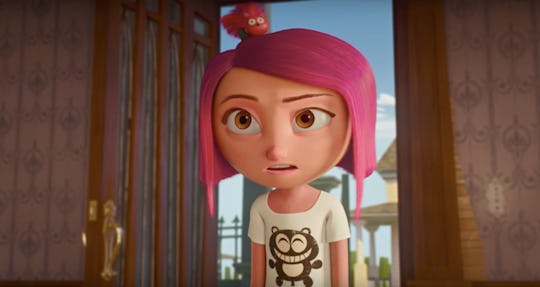 Smith Global Media/screenshot
The 'Gnome Alone' Trailer Features Gnome Vs. Alien
While it may seem like reboots and revivals rule the silver and big screens nowadays, original movies are continuing to get more creative and more fun. The millennial generation is growing up and having kids, and while it's always fun to take a ride on the nostalgia train, new films allow families to watch together. And if the trailer for Gnome Alone has anything to say about it, both parents and kids will want to tune in for this one.
There have been movies about garden gnomes before, like 2011's equally pun-filled Gnomeo and Juliet, but don't worry — Gnome Alone, produced by John H. Williams of Shrek fame, tells a story is all its own.
In the trailer, pink-haired tween Chloe arrives at her new house, a towering manor appropriately nicknamed "Frankenstein's Castle" by Chloe's new overly friendly neighbor, Liam. But instead of being filled with ghosts or containing a portal to a much creepier parallel world, the house is just sprinkled with nondescript garden gnomes. It's soon revealed that the gnomes are alive and sentient. Not only that, but they are actually the guardians of the house, regularly fending off malicious aliens who sometimes enter it through a magical portal. The gnomes enlist Chloe and Liam's help in defending not just the house, but also the world against the enemy.
The movie promises a great cast: starring as Chloe is actress and singer Becky G, known for her starring role in the 2017 Power Rangers and her 2014 musical hit Shower. Liam is voiced by Josh Peck, who you've probably been missing a lot since Vine ended. Also featured are Olivia Holt — who your kids might recognize from her various Disney Channel roles — and George Lopez. Patrick Stump, lead singer of Fall Out Boy, will be scoring Gnome Alone, and will also have a voice role.
Not all movies meant for kids are great for watching as an adult, but Gnome Alone looks to be a fun watch for the whole family. It boasts the message of finding that inner strength and learning to "become the champions [you've] always been inside," which is something everyone needs to be reminded of, now and again. So "have gnome fear" when your kids get excited about this one: Gnome Alone promises to be funny, action-packed, sweet, and inspiring for both kids and adults.
Gnome Alone opens in theaters on March 2, 2018.