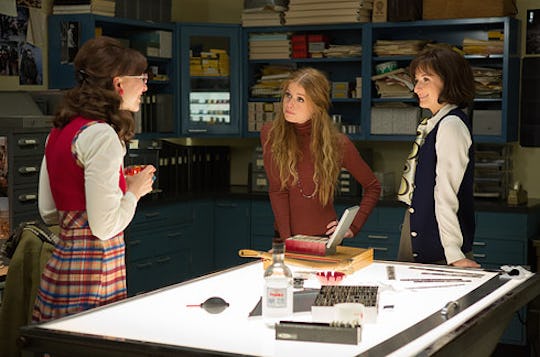 Jessica Miglio/Amazon
The 'Good Girls Revolt' Season 1 Cast Is Full Of Familiar Faces
Amazon is about to introduce TV lovers to a new drama that, by all accounts, owes a lot to that other workplace drama set in the sexism-riddled 1960s. (You know the one I'm talking about.) Aptly titled as Good Girls Revolt, the series fictionalizes a real-life legal suit made by the female employees of Newsweek in that era for gender discrimination. And aside from just being downright interesting, the Good Girls Revolt Season 1 cast is full of familiar faces who play the fearless women who paved the way for us future feminists.
In 1969, the women who worked at Newsweek filed a complaint with the Equal Employment Opportunity Commission. Good Girls Revolt changed the name of the magazine to News of the Week, but the story and overall premise are still the same. It even features a fictionalized Nora Ephron and Eleanor Holmes Norton who both worked for the American Civil Liberties Union. But the show revolves around three young, female characters from different backgrounds and with different life goals, but who all feel the same sense of blistering injustice at the blatant gender inequality in their workplace. They are relegated to researcher and secretarial positions while their male colleagues get all the credit and glory for the stories the women were instrumental in writing. The actresses who portray these young women may be familiar to you, even if their individual stories are not.
Anna Camp
Perhaps the most recognizable of the three stars of the show, Anna Camp started her television career with guest roles in TV shows, including Mad Men, and is probably best known for playing Aubrey in Pitch Perfect, before which she also acted in The Help. Additionally, she had a recurring role on True Blood. In Good Girls Revolt, Camp plays Jane Hollander, a privileged young woman who's a bit of an unwilling "career girl."
Erin Darke
Erin Darke has been acting in Hollywood for a long time, but she's still a lesser known talent. She worked opposite Daniel Radcliffe on Kill Your Darlings, and the two began dating soon after. In the show she plays Cindy Reston, a shy newlywed who's not content just to be someone's wife.
Genevieve Angelson
Genevieve Angelson is no stranger to working on TV shows. She got her first big break playing Caitlin Hobart on House of Lies, and later snagged a leading role on the show Backstrom. On Good Girls Revolt, Angelson plays the hippie chick Patti Robinson, the series' lead and its anchor. Patti is just coming to terms with the limits of her freedom, but Angelson feels like this is the era she should have been born in.
Chris Diamantopoulos
OK, so the cast isn't completely made up of just women. Chris Diamantopoulos has been in the business for years, but he's probably best known to insiders as a talented voiceover actor, despite having the undeniable face of an angel. He has played Mickey Mouse, Moe in The Three Stooges, as well as contributed his vocals in Family Guy and American Dad. But he's probably most recognizable for playing Russ in HBO's Silicon Valley.
Joy Bryant
Joy Bryant has the incredible pressure placed upon her of playing the still-living legend Eleanor Holmes Norton of the ACLU, who represented the women in their lawsuit against Newsweek. (Or, News of the Week as it's called in the show.) Bryant has been on Rosewood, Parenthood, and in the award-winning 2006 movie Bobby, directed by Emilio Estevez.
Jim Belushi
Without a doubt, Jim Belushi is the biggest star in this show, though he plays a more straightforward and serious character than in his most famous work. Born in Chicago and the younger brother of the equally famous John Belushi (who sadly died very young), Belushi started his career as part of the Second City Comedy Troupe, going on to Saturday Night Live, movies, and eventually his own sitcom, According to Jim. In Good Girls Revolt, he plays the paper's happily misogynistic editor.
Hunter Parrish
Hunter Parrish is one of those actors that we sort of watched grow up a little bit, from the time he was a teen on his first big role as Silas Botwin on Weeds up to his heartthrob present day appearances. (Though, we will never forgive him for his devastating stint in The Good Wife.) He's also been in several films, including 17 Again with fellow heartthrob Zac Effron, and It's Complicated before Good Girls Revolt, in which he plays one of the many unsavory male employees of News of the Week.
Grace Gummer
Grace Gummer was originally most recognizable to me as Frances' more talented dance colleague who didn't understand her play-fighting game in Frances Ha. Then I realized she was Meryl Streep's daughter and a giant "ohhhh" of comprehension dawned on me. She's acted in Mr. Robot, American Horror Story, and others as well as several films throughout the years. In Good Girls Revolt, she is the iconic Nora Ephron herself.
Good Girls Revolt hits Amazon this Friday, Oct. 28. And if this amazing cast isn't enough to convince you to tune in, then I'm not sure what will.