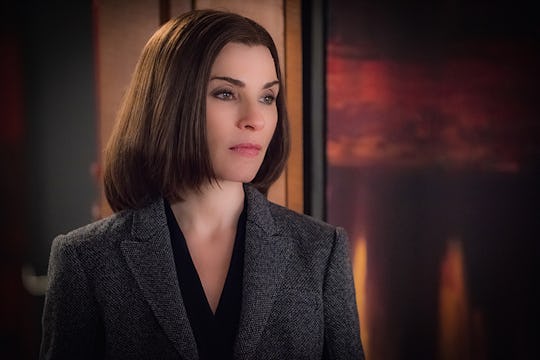 CBS
'The Good Wife' Preempted For The Super Bowl Even Though It May Be The Show's Last Season
Super Bowl Sunday only happens once a year, and there are lots of reasons it has practically become a national holiday. It's the day when Americans come together, eat a variety of dips, watch hilarious commercials, and enjoy performances from major pop stars all in one sitting. Oh, and watch the biggest football game of the year. But the Super Bowl's total dominance of American life and television has one big downside: certain TV shows get pushed off of the air the night of the big game. That means that The Good Wife is being preempted for the Super Bowl, and unsurprisingly, fans are not thrilled.
The game airs on CBS this Sunday, Feb. 7 at 6:30 p.m. Eastern, and it will run for most of the night, kicking off regularly scheduled programming, including 60 Minutes and The Good Wife. The latter normally airs at 9 p.m. Eastern.
CBS could have opted to show The Good Wife when the game ends. The Super Bowl is the most-watched television event of the year, historically, and the show airing immediately after typically gets high ratings as a result. The Good Wife is could use the ratings boost. After the recent announcement that its showrunners will be leaving the show after this season and Julianne Margulies indicating that it may be her last as well, it's unclear whether the show will make it past its current season. CBS heads have not renewed or cancelled the show for another season, E! News reported.
Nonetheless, CBS decided that Stephen Colbert will lead out the Super Bowl for the first time, airing a live version of The Late Show with Stephen Colbert immediately after the sports broadcast. An episode of The Late Late Show with James Corden will follow. So there will be no Good Wife this week, and fans are less than pleased:
But fans of The Good Wife, all is not lost. The show will be back to its regular schedule programming on Sunday, Feb. 14. Still, my sympathy goes out to all Good Wife fans as they brave this nacho-stuffed Sunday without their favorite show.