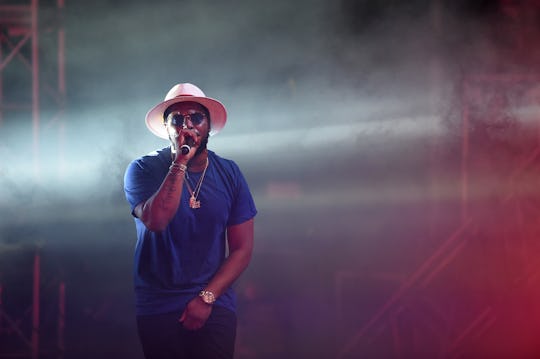 Nicholas Hunt/Getty Images Entertainment/Getty Images
The Grammys Outfit Every Dad Needs To See
On Sunday night, the greats of music gathered at the 2017 Grammy Awards to honor the work of some of the greatest artists over the last year. During the red carpet, a number of musicians were photographed with their kids. Diplo brought his two adorable kids, fans were praying they'd see Blue Ivy with Beyonce. But rapper Schoolboy Q's Grammys outfit, which he coordinated with his daughter, truly stole the show. It is an outfit that every dad should see.
Schoolboy Q was originally going to boycott the Grammys because he didn't think they represented or acknowledged gangsta rap in the way that they should, according to HipHopDx. He's nominated for Best Rap Performance and Best Rap Album for his Blank Face LP. But, in the latter category, he has some stiff competition: Views, by Drake; Coloring Book, by Chance the Rapper; and The Life of Pablo, by Kanye West. Schoolboy Q reportedly said "with me just being nominated, I won," so he appreciates the nod, but he did call out the Grammys for never nominating artists who perform under the gangsta rap category. He said of being among Chance, Drake, and West, according to HipHopDx:
None of them are street rappers. Rap music came from the streets. Not knocking them, I love Chance's music. I love Drake's music. I love Kanye's music. I'm a fan. They never wanna acknowledge the other part. But the fact that 50 Cent, Nas, Tupac never won a Grammy. Biggie never won a Grammy. Why do artists like us never win a Grammy?
Still, Schoolboy Q decided to attend this year for one reason and one reason only: because his daughter Joyce wanted to, according to Harper's Bazaar. So he took her as his date, and their coordinated outfits were amazing.
Schoolboy Q wore a bright pink hoodie that said "GIRL POWER," while his daughter wore a bright pink Gucci suit with a flower tie. Talk about elevating his daughter and letting her steal the show. What a duo. What a dad.
Twitter was seriously fond of their coordinated outfits:
The rapper shared a full-length shot of Joyce on his Instagram prior to the show:
He captioned it appropriately with "Headed to da Grammys wit 2 mucH sauce." So much sauce, for sure.
Schoolboy Q made it clear that, if he was going to attend the Grammys, he'd be sure to make a statement when he did. His daughter wanted to go to experience the event and support him, so he clearly wanted to let her shine in return. Any dad who can elevate women's issues and equality in such a subtle manner deserves a high five or a hug. Well done.