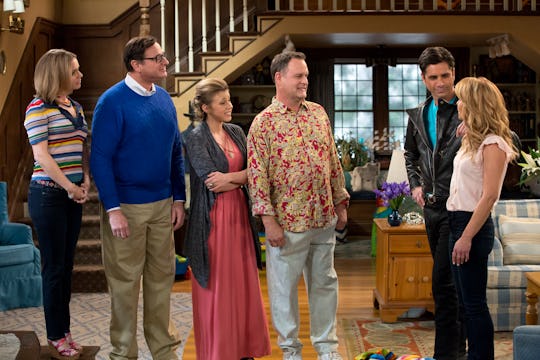 Mike Yarish / Netflix
The One 'Fuller House' Season 3 Cameo Every Diehard Fan Will Love
Warning: Season 3 spoilers ahead! Part of the fun of Netflix's Fuller House is waiting for cameos from the characters of the original series, Full House, to pop up. So far, fans have not been disappointed. Pretty much all of the original cast is back, except for the Olsen twins. But honestly, the Nick Katsopolis cameo in Fuller House Season 3 might be the best one yet.
What, you don't remember Grandpa Nick? What kind of fan are you? Just kidding, it definitely took me a minute at least to remember that Grandpa Nick was a recurring character on the show. In case you don't remember: Nick is the father of Uncle Jesse and Danny's deceased wife, Pamela. And if I'm being totally honest, he was not always the easiest guy in the room to deal with.
Played by John Aprea (who is currently 76 years old), his first appearance was back in 1988, on an episode titled "It's Not My Job." This is the one where Jesse tells his dad that he wants out of the bug exterminating business and Nick threatens to kick him out of the family, only to reveal later that he really doesn't want to sell the business to a stranger. This is a pattern with Grandpa Nick, up until his last appearance at Becky and Jesse's wedding episode in 1991, he was always the tough, but loving grandpa.
So when he showed up in Episode 9, it was just perfect, though there's no mention of his wife, Irene, who also used to make regular appearances on the original series. (She was portrayed by Yvonne Wilder, who is 80 years old now and perhaps was unavailable for a cameo.)
Anyway, Nick shows up to babysit Tommy while the whole gang heads to the airport to go to Japan for five days for Steve and C.J.'s wedding. True to form, he's a little brash, but stoked to be hanging out with his great-grandchild. Then he chides D.J. for rushing him out the door. "Ah, maybe you'll let me all the way in the living room net time," he jokes.
Aw, typical Grandpa Nick, huh? Maybe, if this whole Steve and D.J. thing actually works out, Apreo will return as Grandpa Nick for a backyard wedding or something.
But I'm getting ahead myself here. For now, Grandpa Nick just has some major plans for his few days with Tommy. He tells the tot, "We're gonna hit the early bird special, you're gonna by my nanny magnet." He adds that apart from that, the two dudes will spend their time "yelling at the TV news" and napping. So does this mean we're to assume that Ihis wife Irene has died in this Fuller House universe? Otherwise he may have some explaining to do with that whole nanny comment when he gets home.
Hopefully, he and Tommy aren't getting into too much trouble. Because D. J. already is on that plane to Japan. While sleeping with an eye mask on, she doesn't notice that Steve and Kimmy have switched seats and she ends up pouring her soul out to Steve. All while Matt is sitting just a few rows over showing Stephanie an engagement ring that he purchased. He plan to propose to D.J. either before or after the wedding. (Hopefully not during since that would be really rude.)
Fans will just have to wait and see what happens after that plane ride. Or if Grandpa Nick brings a nanny to D.J.'s wedding — whomever she ends up with.
Watch Romper's new video series, Romper's Doula Diaries:
Check out the entire Romper's Doula Diaries series and other videos on Facebook and the Bustle app across Apple TV, Roku, and Amazon Fire TV.