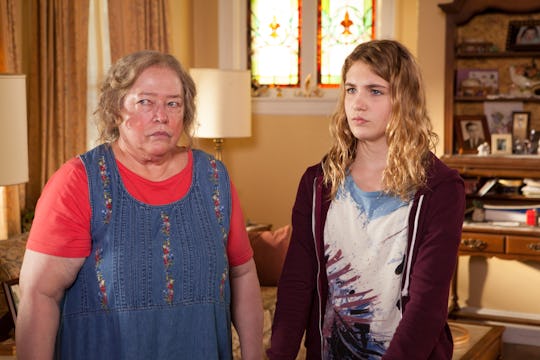 Lionsgate Premiere
'The Great Gilly Hopkins' Exclusive Clip Shows Getting Along With Family Isn't Always Easy
Family is never easy, but welcoming a feisty — sometimes difficult — foster child like Gilly Hopkins into your home might come with even more unforeseen difficulties. Add in the smell of a cat, a new sibling, and the introduction of a biological family and you've got yourself quite the recipe for chaos. The reincarnation of the beloved childhood novel by Katherine Paterson, The Great Gilly Hopkins, comes out in theaters and on demand Oct. 7 and tells the story of what it means to be a family. In this exclusive sneak peek, Gilly meets her new family and shows her famously feisty lack of eagerness in becoming a part of a family that is welcoming her with open arms.
In the clip, Gilly Hopkins is welcomed to her new home by Trotter (played by Kathy Bates) and a shy W.E. The social worker, Elliot, seems to know what lies ahead when leaving Gilly with Trotter. Billy Magnussen, who plays Elliot, is cautious when introducing Gilly to her new family. She's "independent" and "self-sufficient", he says, right before Gilly imitates a chomp in W.E.'s direction, scaring him.
Gilly is clearly wise beyond her years, which is evident from the clip below. She's witty, sharp-tongued, and not afraid to show some attitude. It is her last chance before being placed in a teen facility, but that doesn't mean that she is going to make it easy for anyone involved. Her hesitation in accepting the new family is rooted in much more, but it is the relationship with her new family that is bound to steal the hearts of viewers.
Things are made increasingly more difficult when Gilly's birth family comes for her, tearing her away from those she actually started forming a family with. Besides Kathy Bates and Sophie Nélisse (as Gilly), the film adaption also stars Julia Stiles as Gilly's biological mother, Glenn Close, Octavia Spencer, and Bill Cobbs. It is the story of family and what it means to find a home that welcomes you and loves you for who you are. You can catch it in theaters and on demand beginning Oct. 7.