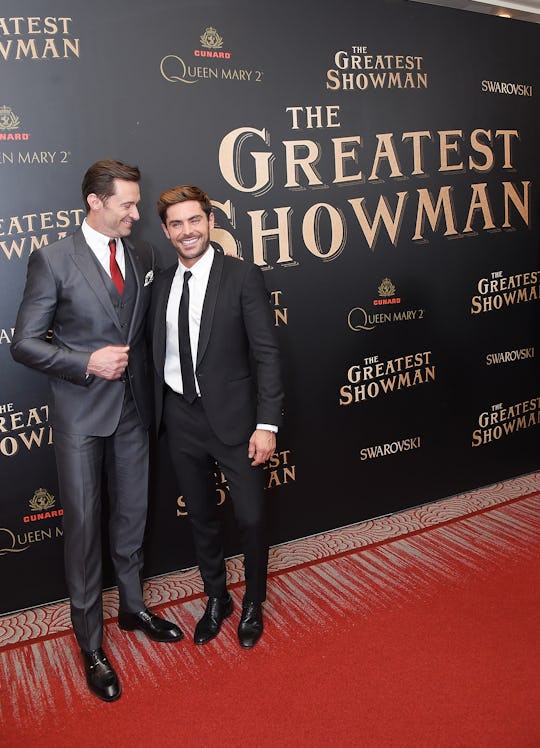 Michael Loccisano/Getty Images Entertainment/Getty Images
'The Greatest Showman' Cast Performed During FOX's 'A Christmas Story' & People Are Into It
A Christmas Story Live! didn't just have live performances, a live broadcast, and live songs. It took its theme seriously and carried it out to the fullest by also featuring a live commercial for an upcoming musical film. And the unusual marketing attempt went over very well: The Greatest Showman cast performed during Fox's A Christmas Story and people were really loving it.
The Greatest Showman will be released in theaters starting December 20. It follows Hugh Jackman as famed entertainer P.T. Barnum as he founds the traveling Ringling Bros. and Barnum & Bailey Circus, though it's sure to add many a fictional twist to the true story. It also delves into the stories of the performers and attractions who made up the circus' program. In addition to Jackson, the cast of The Greatest Showman boasts Zach Efron and Zendaya, as an actor and acrobat respectively.
And they were all there for the live commercial dropped into one of the breaks of A Christmas Story Live!. Jackman, Efron, and Zendaya (among other cast members) joined throngs of dancers as they performed a song from the upcoming film. The attempt to build hype for The Greatest Showman definitely worked, if Twitter is anything to go by; viewers were so impressed by the skills on display that more than a few people are going to be checking out the film when it makes its debut.
In addition to being the very first live commercial in recent memory, the two and a half minutes granted The Greatest Showman were certainly on a grandiose level befitting a big budget film with A-list actors. There were a hundred and fifty dancers backing up the actors as they belted "Come Alive," one of the songs off the movie's soundtrack. It was like seeing a mini Broadway show sandwiched in between another stage production: the Oreo of television musicals, if you will.
Considering the positive reception, it may not be the last live commercial you see, too. Michelle Marks, the senior VP of marketing and global media promotions for 20th Century Fox Film, seemed interested in continuing the trend. "We are creating what we expect will be a memorable performance providing energy and excitement to viewers that drives them to see The Greatest Showman," she told Variety prior to the commercial's premiere. "This first-ever live commercial for a feature film is one that P.T. Barnum would be proud of and one that I hope paves the way for future titles."
At first, it might have seemed kind of random for The Greatest Showman cast to perform during A Christmas Story Live!. Other than the fact that they were both musicals, there didn't seem to be much connection. One was a massive production about a turn of the century circus performer while the other was a nostalgic look back at one young boy's Christmas in the 1950s. However, there is a big link between the two.
The songwriting team who provided A Christmas Story: The Musical with its original songs was the very same team who penned the music for The Greatest Showman: Benj Pasek and Justin Paul. Their names might not necessarily ring a bell at first, but you're likely to be familiar with their work: their biggest hits include Dear Evan Hansen and the music of La La Land, for which they won an Academy Award. It makes perfect sense for them to promote one of their projects during the airing of another.
If that glimpse at The Greatest Showman appealed to you, then you just have a few days to wait before getting to check out the entire film in theaters.
Check out Romper's new video series, Romper's Doula Diaries:
Watch full episodes of Romper's Doula Diaries on Facebook Watch.