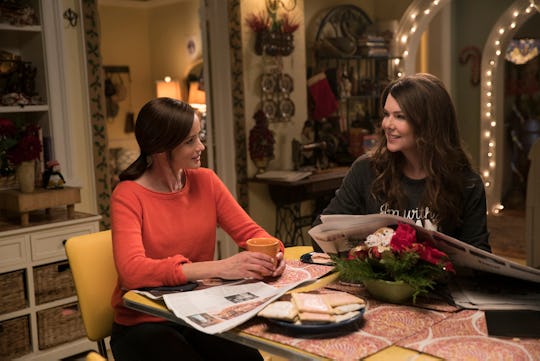 Saeed Adyani/Netflix
The Greatest Thanksgiving TV Episodes Ranked From Best To Better
Christmas is a holiday that dominates the big screen thanks to its inherent spectacle, but Thanksgiving's homier qualities have allowed it to excel on television. Holiday episodes are a staple of sitcoms and dramas alike because they get characters to sit around a table and hash some things out, taking advantage of all that intrinsic conflict. The greatest Thanksgiving TV episodes, ranked from least delightful to most, reminds you of some of the best celebrations television has had to offer. Even the "worst" episode on this list is good stuff.
Thanksgiving can always be counted on to bring characters together and make them face some uncomfortable emotions, especially if family enters the mix. That can result in some really rewarding episodes that navigate both painful moments and joyful ones, all before dessert is served. The best Thanksgiving episodes provide the audience with some laughs, some tears, and everything in between.
After you've spent all morning cooking, all afternoon eating, and all evening cleaning up, reward yourself with a mini marathon of some of the most memorable Thanksgiving episodes TV has to offer. It's the perfect way to unwind after a busy day. Settle in with your leftovers, queue up an episode or two, and enjoy the holiday.
Don't Trust The B— In Apartment 23, "It's A Miracle"
This short-lived (but nevertheless fantastic) sitcom delivered a Thanksgiving episode on par with its usual cringey hilarity: June goes home with Chloe for the holidays, where she has to handle a past hook-up with Chloe's dad and Chloe's numerous issues with her mom. Meanwhile, James Van Der Beek gives back to the community. (Season 2, Episode 4)
Gossip Girl, "Blair Waldorf Must Pie"
This episode was one of the best the show had to offer. Shifting between the past and present highlighted just how much everything had changed for the characters in just one year, and it kept Blair and Serena's relationship at the forefront. The icing on the cake? Chuck's not in it. (Season 1, Episode 9)
How I Met Your Mother, "Slapsgiving"
This seasonal episode was all about the bet between Marshall and Barney that allowed Marshall to slap Barney across the face at a moment of his choosing — which resulted a tense, hilarious countdown and then a triumphant musical number. You'll be singing "You Just Got Slapped" for the rest of the night. (Season 3, Episode 9)
Living Single, "Love Takes A Holiday"
Living Single offered up a perfect Friendsgiving on more than one occasion, but its first Thanksgiving episode is still a classic. With guest star Nia Long on hand, it focused on the friendship between the main cast, which was what made the show so magical in the first place. (Season 1, Episode 13)
Friends, "The One With The Rumor"
Friends had no shortage of perfect Thanksgiving episodes. There was the one where Chandler had to do penance for kissing Kathy by locking himself in a box; there was the arrival of Rachel's flighty sister; there were love confessions and Mockolate and football. But Brad Pitt's guest spot as a Rachel-hating former classmate was just too fun to pass up. (Season 8, Episode 9)
This Is Us, "Pilgrim Rick"
One of the earliest instances of This Is Us making viewers cry their eyes out, "Pilgrim Rick" has it all: Jack being perfect, Rebecca standing up to her mom, the birth of Pearson family traditions, and the heartbreaking pain of Randall discovering Rebecca had kept William from him for years. You'll never go from aww-ing to weeping faster than you will watching this episode. (Season 1, Episode 8)
Will & Grace, "Queens for a Day — Part 1 & 2"
Will & Grace was another show that knew how to turn out a hilarious holiday romp, but Will's first Thanksgiving with Vince's family was something special. There was comedy to be mined from Will's attempts to win over Vince's mom and Vince's delusional daddy issues, but there was also Jack counseling Will's sister to come out and a heartwarming resolution to the drama. (Season 7, Episodes 10 and 11)
A Charlie Brown Thanksgiving
This holiday special is pretty iconic, so it's always worth a watch when Thanksgiving rolls around. You may have seen it a million times before, but you still don't want to miss it. When you're looking for something comforting and classic, A Charlie Brown Thanksgiving fits the bill.
Bob's Burgers, "Turkey In A Can"
Poor Bob is constantly trying to craft the perfect Thanksgiving dinner and he's always thwarted at every turn. In "Turkey In A Can," Bob faced his own worst nightmare when he repeatedly sleep-dunked the turkey in the toilet for no reason he could understand. It turned out Bob was just stressed about his little girl growing up, adding a sweet layer to a funny episode. (Season 4, Episode 5)
Gilmore Girls, "A Deep-Fried Korean Thanksgiving"
It just doesn't get better than Lorelai and Rory making their way through four very different Thanksgivings over the course of one day. It has everything you could ever want from an episode of Gilmore Girls, and then some. (Season 3, Episode 9)
No matter how you're feeling on Thanksgiving, there's bound to be an episode from a beloved TV show that suits your mood — whether you want cozy family fun, heartbreaking drama, or pure comedy.
Check out Romper's new video series, Romper's Doula Diaries:
Watch full episodes of Romper's Doula Diaries on Facebook Watch.