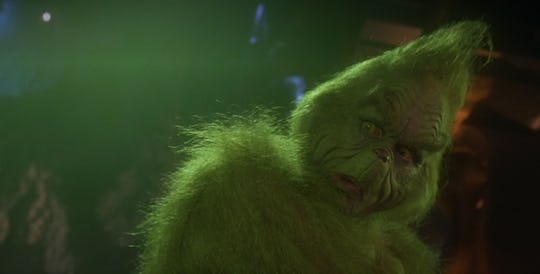 Universal Pictures
I Relate To The Grinch And Honestly, You Probably Do Too
Growing up, my family had a cute little nickname for me during the holiday season: Grinch. It was said with love, of course, and I happily adopted the moniker. While Christmas lights were hung, I occasionally would mutter "Bah, humbug" — a nod to another holiday curmudgeon. And as my siblings and I watched all of the animated winter classics, I found myself realizing that the Grinch is my Christmas role model.
For those who aren't on board, let me spell it out for you. The Grinch is a misunderstood creature. The Whos down in Whoville see him as terrible, just because he looks a little different and doesn't appreciate the holiday season the way they do. But isn't their whole humongous celebration a bit much? Isn't it OK to think, "hey, maybe I'm not the biggest fan of the consumerism this capitalist spending frenzy causes?"
I know I wasn't (despite having no idea what capitalism was until more recently than I care to admit). Christmas as a child was all about gifts. My siblings and I would play this game where we would try to have the last present to open. We would hide a small package under a pillow on the couch, or back behind the Christmas tree where the others couldn't see. As the years went on, we continued to play, now just as a funny tradition, but I finally began to see what an absurd mindset it was to try and stockpile gifts.
The Grinch sees this. He gets away from all of the craziness, all of the people, all of the Who-spectacular. In the Jim Carrey version (which most of us Millennials will admit we secretly love), it's hard not to see where he's coming from. This man (or creature, or whatever) both craves human attention and loathes it — who among us hasn't felt that intense overload of holiday everything? Besides, he's got all that he needs: His dog, his plans with himself, solving world hunger... this is all written as a joke to the audience, but it's relatable. Sometimes it's nice to just be by yourself.
And as an introvert, I definitely felt that. My younger sisters would come crashing in to wake me up as early as our mom would allow, and I would try to hold them off as long as possible just to get another few minutes of sleep, and of quiet. A few hours in, and I was ready to check out and decompress in my room, but there were always more gifts to open or food to eat.
I'm definitely not the only one who feels this way. Twitter user @random_weighs points out that the Grinch's problem was with everyone else, not the holiday. I can definitely relate.
And the Grinch memes are all over the place. As part of the infamous scene where he rants to himself and rattles off his to-do list, this clip has been circulating the internet, and I think it's safe to say we're all feeling some of this frustration at Christmas time.
Don't get me wrong — I had an amazing childhood, and I love spending time with my family. But that's all I really want: The time spent together. This year, I'm going to be home with most of my family, who live across the country from me, for the first time in a couple of years, and I'm looking forward to what has become a much more low-key production: A tiny, fake tree, just a few gifts, and hours to bond with those I love. Just like the Grinch came around to hanging with the Whos, it looks like I've learned the true meaning of the holiday season.
This first-time mom wants to have a home birth, but is she ready? Watch how a doula supports a military mom who's determined to have a home birth in Episode One of Romper's Doula Diaries, Season Two, below. Visit Bustle Digital Group's YouTube page for the next three episodes, launching every Monday starting November 26.