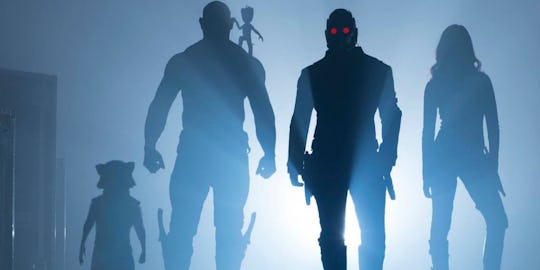 The 'Guardians Of The Galaxy 2' Trailer Is Here With Some Action, Bromance, & Groot
Good news, Guardians fans. All of your favorite favorites are back in the brand new Marvel's Guardians Of the Galaxy Vol. 2 trailer, which was released on Wednesday. Being that Blue Swede's "Hooked On A Feeling" is the music that once again introduces us to the guardians, you can be sure that the film will be just like the original, which in this case, is a true blessing.
The trailer opens with establishing shots in a spaceship — makes sense. We see an empty hallway, and then a printed sign that says "spacesuits for emergency" and the words "or for fun" written under it. With that playful handwriting, we know we must be aboard Star-Lord's ship. We then see other settings like the woods, and various actions shots that appear to be serious. Yet the severity of the sequences are sharply reduced by the accompaniment of the "Hooked On A Feeling" song. From this, we get a look inside Star Lord's mind: there is always danger, but with that comes an overlapping sense that things will turn out alright in the end.
The trailer then changes gears— shifting from from fast-paced montage to drawn out intimacy. "There are two types of beings in the universe" Drax (Dave Bautista) declares. "Those who dance," as these words are heard, we see Star-Lord (Chris Pratt) twirling his guns around. "And those who do not," Drax continues. As he says this a shot of Gamora (Zoe Saldana) is revealed. This instance reveals that Star-Lord is still hardcore-crushing on the lime-green lady.
Then, like a good bro, Drax offers him some back-handed advice. "You just need to find a woman whose pathetic like you" he insists, and offers his partner a hug. Star-Lord's ego refuses the embrace, but Drax goes in for one anyway, giving us an awkwardly adorable moment. It turns out Drax The Destroyer has a heart. Now we just have to wait and see if Gamora can grow one too, in the same manner as her cousin, The Grinch. Cross your fingers because if she does, we're in for more romantic space moments.
Of course, director James Gunn saves the best for last. The final shot of the trailer includes Rocket Raccoon shooting a hole into the screen revealing him and Baby Groot. (Who pops his head out from the robotic raccoon's shoulder like a little wooden parrot.)
The trailer came directly after Gunn tweeted out the first teaser poster for Guardians of the Galaxy Vol. 2.
Did you catch baby Groot behind Star Lord's boot?
Here he is again in case you missed it. See how endearing he is? He gets his own tweet! Ahh, the little guy steals the show like a Where's Waldo figurine made of bark. We can already guess what Baby Groot's first words will be, but we're a step closer to watching him grow up. This teaser will hold fans over until the film's release on May 5, 2017, but also effectively leaves them wanting more like every teaser should.