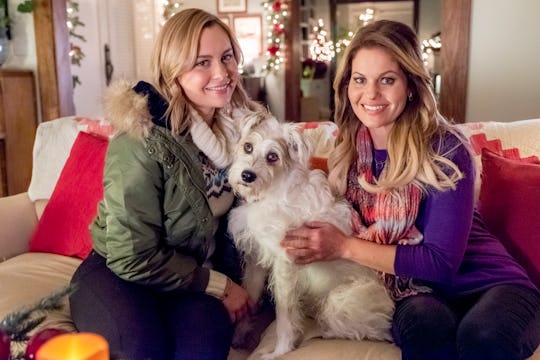 Jeremy Lee/Hallmark Channel
Mark Your Calendars: The Hallmark 'Countdown To Christmas' Schedule Is Here
If there's ever a time to indulge in a heart-melting and unabashedly sappy Hallmark production, it's at Christmas time. The Hallmark Countdown to Christmas schedule for 2017 has everything you need this year to bring that cozy, delightful feeling to your brittle, icy heart. I firmly believe that every Hallmark movie is a little masterpiece in its own right, but particularly when it comes to the holiday-themed movies. Often starring actors you probably haven't seen in a decade, these specials offer up lots of love triangles, engagements, snow, and Christmas cheer.
This year, I am most excited to curl up with a fuzzy blanket, my temperamental cat, and some spiked hot chocolate to watch Coming Home For Christmas, which sees Danica McKellar (yes, that Danica McKellar!) torn between two wealthy brothers as she tries to keep their family together and teach them the meaning of Christmas. If that doesn't sound like the greatest plot of a movie in the world, then I don't know what to tell you.
But to make things easier for all you fellow Christmas-lovers, I have assembled the complete list of Hallmark's Countdown to Christmas movies so you don't have to miss a single tinsel-covered moment.
Coming Home For Christmas (Nov. 18 at 8 p.m. EST)
I just went over all the reasons this movie is going to be incredible, but to reiterate, Danica McKellar! Two hot men! Saucy grand dame! It's like Sabrina but at Christmas time.
A Gift To Remember (Nov. 19 at 8 p.m. EST)
A Gift to Remember is about a bookish Manhattan bookstore-owner (how novel) who must care for the dog of the dashing young man she accidentally sent into a coma. Who among us, am I right?
With Love, Christmas (Nov. 22 at 8 p.m. EST)
An advertising executive has to come up with a Christmas commercial with her Secret Santa recipient. Mild spoiler: she has the hots for him. Romantic and professional!
The Mistletoe Inn (Nov. 23 at 8 p.m. EST)
I would very much like to go to the inn in this movie. The Mistletoe Inn is about a bunch of romance novelists who get together at this retreat in a cozy Vermont inn. Guests of the retreat include the heroine of the story, her romance author ex-boyfriend, and a romance author dude who she hates at first. Yes, yes to all of this.
Finding Santa (Nov. 24 at 8 p.m. EST)
Finding Santa stars Jodie Sweetin as a Christmas-obsessed woman in charge of her New England town's famous Christmas parade. When the guy who plays Santa falls ill, she recruits his attractive, Uber-driving son by driving north to his town and hiring his Uber to drive her back. There is nothing about this I'm not obsessed with.
The Christmas Train (Nov. 25 at 8 p.m. EST)
The Hallmark synopsis for The Christmas Train includes the phrase "rugged terrain of his heart" and stars Dermot Mulroney and Joan Cusack. Enough said.
Switched For Christmas (Nov. 26 at 8 p.m. EST)
Candace Cameron-Bure stars in this classic story of sibling switcheroo hijinks. Cameron-Bure's character and her twin brother decide to switch lives in Switched for Christmas.
Christmas In Evergreen (Dec. 2 at 8 p.m. EST)
In Christmas in Evergreen a woman in a small town wishes on a snow globe for the most romantic Christmas ever. I would also like to make a wish on this snow globe.
Christmas At Holly Lodge (Dec. 3 at 8 p.m. EST)
Alison Sweeney stars in Christmas at Holly Lodge, where she takes up an old family tradition of visiting a certain ski lodge. There she meets an "unforgettable family" and her life is changed. Aw.
Christmas Encore (Dec. 9 at 8 p.m. EST)
Christmas Encore is about a struggling actress who is about to give up and move home, but decides to give the city another shot, falls in love with her director, and has to save her theater with a Christmas miracle.
Sharing Christmas (Dec. 10 at 8 p.m. EST)
A lady finds romance and possibly the Christmas spirit in Sharing Christmas. As real estate developer, she has to decide whether to kick a guy out of his generations-old Christmas shop or give up her career. Bummer.
Christmas Next Door (Dec. 16 at 8 p.m. EST)
Jesse Metcalfe stars in Christmas Next Door, which means that I probably won't be paying attention to the plot anyway. He's a divorced father of three who has to Mr. Mom his way through the holiday while romancing his daughter's teacher.
Romance At Reindeer Lodge (Dec. 17 at 8 p.m. EST)
Romance at Reindeer Lodge is about a group of Scrooges who hate Christmas until they're all stranded together at the titular lodge and rediscover what makes the season bright.
Christmas Getaway (Dec. 23 at 8 p.m. EST)
In Christmas Getaway, a recently single travel writer decides to take the relaxing vacation she and her ex-boyfriend had planned together by herself. But it's a good thing he didn't show up because she meets a handsome widower, his daughter, and her mom.
When Calls The Heart: The Christmas Wishing Tree (Dec. 25 at 8 p.m. EST)
I would like to know what a Christmas Wishing Tree is and how I can acquire one. But anyway, the title seems pretty self explanatory.
A Royal New Year's Eve (Dec. 30 at 8 p.m. EST)
I bet you forgot about New Year's Eve. Well, it's here and it's going to be great. In A Royal New Year's Eve, a woman has never kissed anyone at midnight because of principles. This year though, she gets her kiss.
Suffice to say, there are no shortage of Hallmark Channel films to dive into this holiday season. Hope you didn't have any plans with family or friends. You can always socialize next year.
Check out Romper's new video series, Romper's Doula Diaries:
Watch full episodes of Romper's Doula Diaries on Facebook Watch.