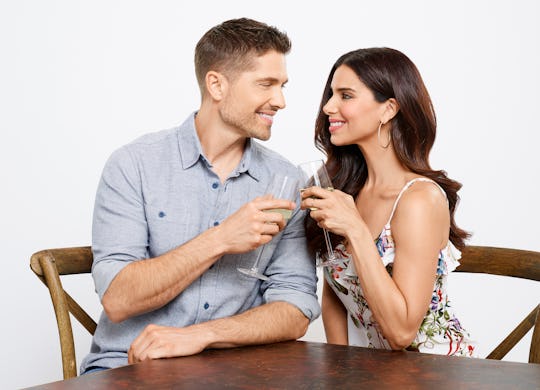 2019 Crown Media United States LLC/Photographer: David Owen Strongman
Spice Up Your Summer Nights With Hallmark's Latest Movie Lineup
It wasn't long ago, Hallmark's Countdown to Summer began. With the Countdown to Christmas set to begin in a few short weeks, there's plenty of space to fill in their summer movie lineup. Now that it's mid-July, it's time for a whole new set of original romances to fill those sultry summer nights. With five brand new original movies added to the network's roster, Hallmark's Summer Nights lineup will keep you cool for the summer (well, July 27 - Aug. 24).
Mark your calendars now, because, you're about to receive everything Hallmark has to offer in its original programming, plus the gamut (from old relationships turned new again, to summer flings) in five new movies. If you've never indulged in any of the network's lineup programming, now's your chance to see what all the buzz is about. Stars like Roselyn Sanchez, Danica McKellar, and Ryan Paevey are all Hallmark alums who appear in these films. Plus, if you're a fan of Chesapeake Shores (starring Meghan Ory, Jesse Metcalfe and Treat Williams), the network is dropping new episodes. Basically, consider your summer nights spoken for.
In case you still aren't sure whether to check out any of the movies or not, here's the full Hallmark Summer Nights 2019 lineup for your viewing pleasure.