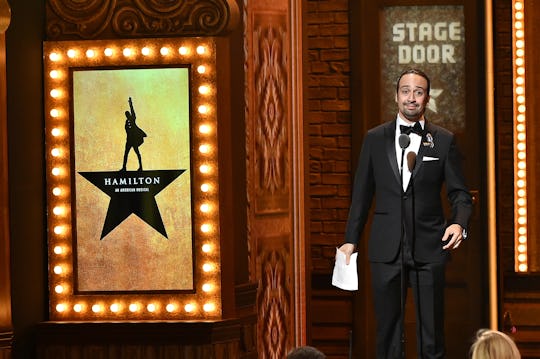 Theo Wargo/Getty Images Entertainment/Getty Images
The 'Hamilton' Mixtape Track List Is Here, & It's As Amazing As We Anticipated
In a relatively short time, Hamilton became a cultural phenomenon. It'll surely (and appropriately) go down in the history books, because there's never been a frenzy over a musical quite like it. Its unique style and creator Lin-Manuel Miranda's widely-celebrated genius made Hamilton unlike any other Broadway show that came before it. Fans and celebrities alike love the show, so when a mixtape of the show's music was announced back in March, it was no surprise to see tons of famous names on the roster. But the track list for the Hamilton mixtape is here now, so we can start freaking out accordingly about hearing specific artists sing specific songs.
We knew to expect a lot from this mixtape from the moment Miranda announced it back in March. The mixtape, which consists of cover version and remixes of the Broadway show's award-winning songs, has more than a few celebrity Hamilfans contributing to it. Miranda seemingly didn't have any trouble finding folks to contribute to the Hamilton mixtape either.
"People are coming out of the woodwork, knocking on the door," Miranda told Vanity Fair. "Half the songs are cover versions of songs in the show, and the others are interpolations — we'll take some of this, some of that, and make something new out of it."
News about the various artists and performers who would be featured trickled out over the remaining months, but there was nothing specific tying any of them to particular covers or remixes. Now, with the announcement of the mixtape's pre-order availability on November 4 comes the full track listing – and it's as spectacular as we'd hoped.
Here's the full track list:
"No John Trumbull (Intro)" – The Roots
"My Shot (Rise Up Remix)" – The Roots feat. Busta Rhymes, Joell Ortiz, and Nate Ruess
"Wrote My Way Out" – Nas, Dave East, Lin-Manuel Miranda, and Aloe Blacc
"Wait For It" – Usher
"An Open Letter (Interlude)" – Watsky feat. Shockwave
"Satisfied" – Sia feat. Miguel and Queen Latifah
"Dear Theodosia" – Regina Spektor feat. Ben Folds
"Valley Forge (Demo)" – Lin-Manuel Miranda
"It's Quiet Uptown" – Kelly Clarkson
"That Would Be Enough" – Alicia Keys
"Immigrants (We Get The Job Done)" – K'naan, Snow Tha Product, Riz MC, Residente
"You'll Be Back" – Jimmy Fallon and The Roots
"Helpless" – Ashanti feat. Ja Rule
"Take a Break (Interlude)" – !llmind
"Say Yes To This" – Jill Scott
"Congratulations" – Dessa
"Burn" – Andra Day
"Stay Alive (Interlude)" – J.PERIOD and Stro Elliot
"Cabinet Battle 3 (Demo)" – Lin-Manuel Miranda
"Washington's By Your Side" – Wiz Khalifa
"History Has Its Eyes on You" – John Legend
"Who Tells Your Story" – The Roots feat. Common and Ingrid Michaelson
"Dear Theodosia (Reprise)" – Chance The Rapper and Francis and The Lights
Everyone has a different favorite number, which is really the beauty of the show – there are so many iconic songs to choose from. But knowing who will be covering a few of the musical's most popular hits has our anticipation for this mixtape dialed up to 11.
"My Shot" is arguably the song, the one representative Hamilton number and one of the earliest big songs in the show. A remix version of "My Shot" is set to feature multiple huge artists, including Busta Rhymes, Joell Ortiz, and Nate Ruess, along with The Roots. Usher is singing "Wait For It," another hugely popular number. Personally, I don't think I can handle the wait to hear Sia's rendition of "Satisfied," the powerhouse showcase of fan-favorite character Angelica Schuyler, or Kelly Clarkson singing the utterly heartbreaking "It's Quiet Uptown." The idea/anticipated hilarity of Jimmy Fallon singing the part of King George (made famous by Jonathan Groff's performance) is also pretty fantastic.
One thing's for sure – it's going to be a long wait until we actually get to buy the mixtape and listen to these covers (over and over and over again).