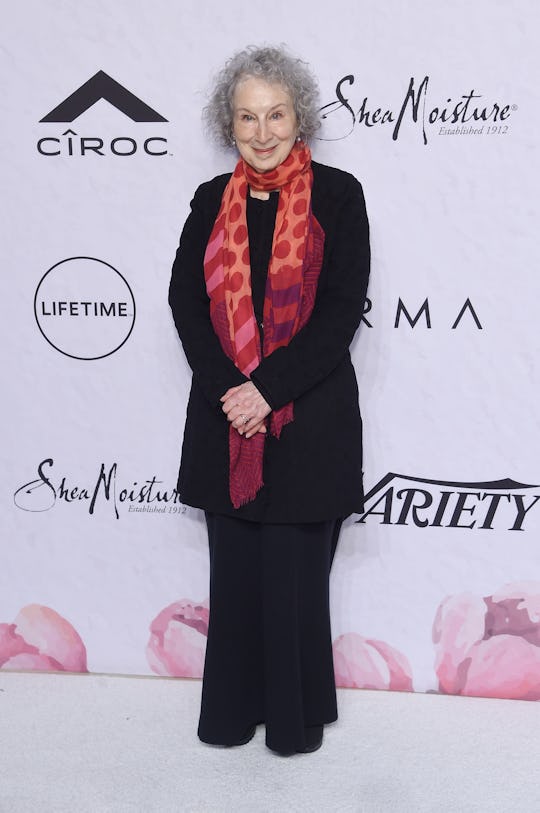 Jamie McCarthy/Getty Images Entertainment/Getty Images
'The Handmaid's Tale' Is Officially Getting A Sequel
Somewhere, right now (OK, maybe not right now), Margaret Atwood is sitting behind her computer working on something fans have been wanting for a long time. As everyone knows, Hulu's Emmy Award-winning show, The Handmaid's Tale, is based on her best selling book. Now, almost 30 years later, she announced some big news. Yes, The Handmaid's Tale is getting a sequel and fans are so excited about it. Praise be!
The sequel, which is scheduled for release September 2019, is entitled The Testaments. It takes place 15 years after the end of the first book and will be narrated by three female characters, although it's unknown if the lead character, Offred, will be one of them, The Independent said.
Why now? Two big reasons. Atwood said she is writing the sequel to answer readers' questions. But also, most importantly, because of the world and times we are living in today, according to NBC News. No doubt she is talking about political issues concerning women's rights like healthcare, birth control, and equal pay. In other words, the patriarchy is getting scary close to mirroring scenes from her book.
Since the release of the Hulu show of the same name, many activists have adopted the handmaid's uniform — red cloak and wide rimmed white bonnet — wearing it at various political rallies around the country. It's become synonymous with the plight of women, according to NBC News.
"Everything you've ever asked me about Gilead and its inner workings is the inspiration for this book. Well, almost everything! The other inspiration is the world we've been living in," Atwood said in a statement released on Twitter on Nov. 28.
While Atwood included a link in her tweet, it only redirected fans to her author page at Penguin Random House. Right now, these are the only details known about the long-awaited sequel.
So, what do the fans have to say? Looks like it's going to be continue to be a long wait for such a highly-anticipated book.
Overall, fans are just wondering how they're going to make it to September! It will likely be a worthwhile wait.
The original 1985 classic is about a dystopian society, Gilead, where women are categorized based on their skill sets. The quintessential red-cloaked women are Handmaids, the world's last fertile women who are forced to couple with high-ranking political figures (called commanders) in order to continue the human race. Women are no longer women, they are a means to an end with no rights or property. The book became especially popular again a few years ago, The Verge noted, after Trump's election and in conjunction with the TV series' release.
Hulu's interpretation of the book debuted in 2017 and has remained one of television's most critically-acclaimed shows, winning an Emmy for Elizabeth Moss for her portrayal of Offred, according to The Independent.
In the same year, Audible released a new version of The Handmaid's Tale audio book, which was read by actress Claire Danes and included a brand new afterward from Atwood.
The newest season of The Handmaid's Tale will likely air sometime in 2019.
As for the sequel to the book, it's hard to say whether or not it will live up to the first. But one thing's for sure, it should answer some of the biggest questions that fans have had since they first met the women of Gilead so long ago.
This first-time mom wants to have a home birth, but is she ready? Watch how a doula supports a military mom who's determined to have a home birth in Episode One of Romper's Doula Diaries, Season Two, below. Visit Bustle Digital Group's YouTube page for the next three episodes, launching every Monday starting November 26.