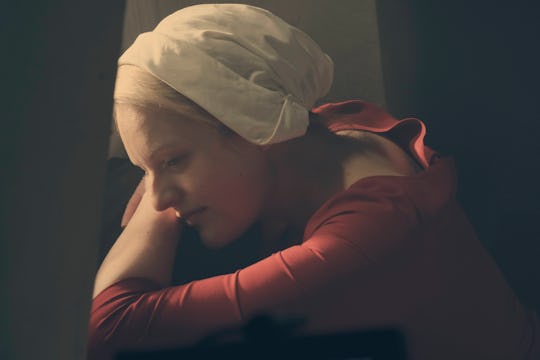 George Kraychyk/Hulu
'The Handmaid's Tale' Season 2 Release Date Has Been Revealed, So Mark Your Calendar
After the explosive first season of Hulu's The Handmaid's Tale got audiences hooked on the horrifying world of Gilead, it's understandable that they would be impatiently awaiting the newest installment of the series. Hulu gave fans a glimpse of the upcoming season on Twitter (and it really is just a glimpse), but luckily The Handmaid's Tale Season 2 release date has been revealed, so now everyone knows exactly how much longer they have to wait.
The Handmaid's Tale will be back in April 2018, though an exact date has yet to be announced. It seems Season 2 is still in production, which is why it'll be six months before fans get to see the resolution of the first season's cliffhanger ending. And Hulu's announcement didn't come with many clues: the only hint they provided was an incredibly brief clip that asked more questions than it answered.
In the fifteen second video, a handmaid runs down a shadowy corridor with a flashlight in one hand and her bonnet in the other. Her identity is unknown and the setting isn't clear, and viewers don't know who she's running from or what she's running towards. It could be Elisabeth Moss' June (a.k.a. Offred) on the run, but it's impossible to say for sure.
The first season of The Handmaid's Tale ended with June leaving the house of Commander Waterford and Serena Joy, but her ultimate fate was unclear. She was taken into a van by men dressed in black who could have been the Gileadan police — or more helpful allies in disguise. June did have connections that might have saved her from being imprisoned like her friend Emily before her. June was in a relationship with Nick, the Waterfords' chauffeur and a member of the secret police force known as the Eyes, and he could have arranged for her to be taken to safety. She was also working with the Mayday resistance and they might have found a way to smuggle her out of Gilead.
Margaret Atwood's novel never answered those questions. The book implied that Offred found her way out of Gilead somehow but it didn't offer any firm conclusions. Season 1 of The Handmaid's Tale ended the same way Offred's story in the novel did, so now the Hulu series will be striking out into unknown territory. However, if the clip is anything to go by, then escape might be a theme throughout Season 2. June may have left the Waterfords' home, but that doesn't mean that she's safe or even that she was able to leave Gilead. The new season could explore her attempts to break out while evading detection from the authorities.
Fans may be speculating and trying to predict what twists and turns Season 2 might take, but according to Elisabeth Moss they won't be able to figure it out. She told Entertainment Weekly that fans are going to be shocked by what they discover when they tune in for the second season.
"I've read the outline for the first episode, and it is f**king ridiculous," Moss said. "It's insane! I can say this: There is literally no way that anyone can guess what happens. You can try, but you won't do it. It's incredible. We're really looking to blow people away, and we have every intention to break [the story] open and go even further in all directions. We have no intention of doing anything else than being even more balls to the wall than we were in Season 1."
However, some details have made their way to the public. Executive producer Bruce Miller gave Us Weekly some bits and pieces of key information. According to him, much of Season 2 will focus on June's pregnancy while Luke and Moira work hard to get her to safety with them in Canada. Meanwhile, the world will continue to widen as the show explores points of view besides June's. Aunt Lydia's backstory will be explained, and audiences will finally get to see Emily again, gaining their first look at the terrifying Colonies in the process.
It looks like the second season of The Handmaid's Tale promises to be just as compelling as the first. How long until April, again?
Check out Romper's new video series, Romper's Doula Diaries:
Watch full episodes of Romper's Doula Diaries on Facebook Watch.