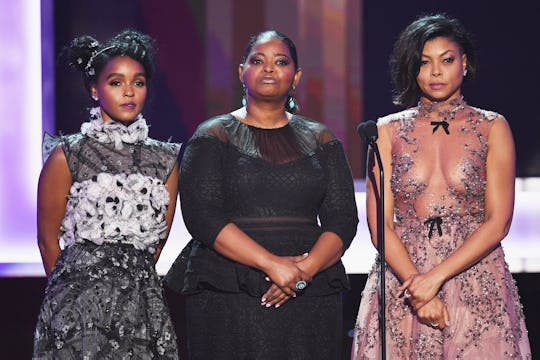 Kevin Winter/Getty Images Entertainment/Getty Images
The 'Hidden Figures' SAG Speech Will Give You Life
There's no denying that the 2017 Screen Actor's Guild Awards was filled with many memorable moments. However, I have to say that the Hidden Figures SAG Awards acceptance speech for Outstanding Performance by a Cast in a Motion Picture was by far the most empowering moment of the night in my books at least. For those of you who are unfamiliar with the film, Hidden Figures tells the story of three brilliant African-American women, by the names of Katherine G. Johnson, Dorothy Vaughan and Mary Jackson, who worked at NASA and helped to launch astronaut John Glenn into space. It's a story that deserves to be told, especially now in a time when our country feels so divide. And Taraji P. Henson, who played one of the iconic women in the film, had a few very moving words to say when it came time for the team to give a speech.
"This story is about what happens when we put our differences aside, and we come together as a human race," Henson remarked to her fellow Hollywood peers. "We win. Love wins every time... They are hidden figures no more!" I mean, if that's not a powerful sentiment — and one that the world very much needs to hear at this point in time — then I don't know what is.
It's clear that this win meant a lot to the cast and crew, proving that these are the types of stories that should continue to be told in the entertainment industry. Whether you're a fan of pop culture or not, entertainment holds the power of being able to reach a massive audience and give others a platform on which to have a voice.
"These women did not complain about the problems, the issues the circumstances. They focused on solutions," Henson included in her speech. "Therefore, these brave women helped put brave men into space. And we cannot forget the men who worked with them: God rest his soul, John Glenn." It was a very moving moment in the ceremony and proved just how much they deserved this victory. Congrats ladies — this one's for you!