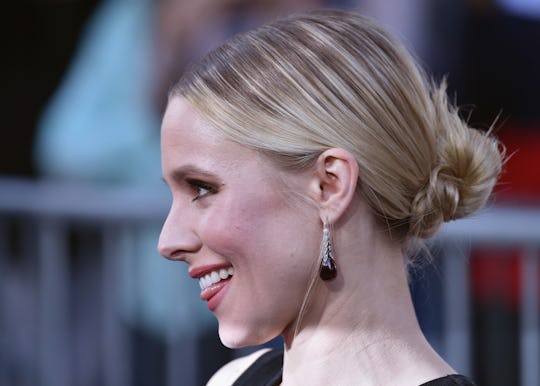 Frazer Harrison/Getty Images Entertainment/Getty Images
The Reason Kristen Bell Prefers Having Daughters Is Hilariously Simple
Listen, I really don't care what your opinions are on the best tacos, or New York Fashion Week, or even whether or not Beyoncé is worth all the hype. But, if you don't agree that Kristen Bell is literally an angel from heaven (or some other magical, mystical place), then I'm sorry, but we have an issue. Not only is the actress mega-talented, but she's also just a great human being overall, and genuinely humorous. Seriously, the hilarious reason Bell prefers having daughters is yet another reason why she's the one of the funniest moms (and humans) out there.
The mom of two has often shared parenting tidbits that give some insight into what she's like as a mom. But now, she's really getting real with us all. Talking to Redbook for its October issue, Bell spoke about a lot of issues, including how totally overrated being perfect is, but it's her quote about having daughters that will have you in tears — of laughter, that is.
"I love having girls," she told the magazine. "The truest thing in life is that girls rule, boys drool." Obviously, Bell doesn't mean all boys "drool," but still, the sentiment remains. And it isn't the only time Bell has gotten real about parenthood.
Bell, 37, who is married to 42-year-old Dax Shepard, is the mom of two girls (obviously), 2-year-old Delta Bell and 4-year-old Lincoln. The couple has made a conscious effort to shield their little ones from the public eye as much as possible, with Bell once telling Access Hollywood, "we don't want our daughter's face anywhere ever until she decides because I have the utmost respect for her."
However, Bell is open to talking about her kids, and sharing some funny stories and words of wisdom she's picked up along the way. Because even when she's just talking about the pressures of motherhood, Bell is as real as it gets.
"In the age of social media," Bell told Redbook in 2016, "when you can edit your life in beautiful pictures, it's important to remind moms that all of us are wearing yogurt and all of our hands smell like urine."
Bell has also been honest about the difficulties of getting up in the morning, and how she so misses conventional alarm clocks. Speaking to Us Weekly in April, Bell said:
My current alarm clock is the blood-curdling screams that I wake up to. I bolt down the hallway thinking that someone's fallen out of their crib or broken their arm or, I don't know, drowning in the sink, and then they're just like "Good morning, Mommy!" ... I try not to interact with my kids too much before I drink my matcha because I need to be caffeinated to be nice to anyone.
Bell has also realized that it's important to not let your kids walk all over you, no matter how cute they look when they do it. "Recently I've had an epiphany that if I'm as nice to my daughter as I want to be, she's not going to respect me," Bell told Redbook in 2016. "Giving your kids strong boundaries is good for them, because if you just let them do whatever they want, you raise a jerk."
All in all, though, as much as Bell loves her daughters, she knows she's pretty happy with a family of four. According to a 2015 interview with Good Housekeeping, Bell said, "I loved being pregnant — but I don't want to be outnumbered!" And honestly, she seems to be completely nailing this whole parenthood thing.
Obviously, Bell would be a great mom to sons, as well, but the fact that she feels so happy with having two daughters just proves that everything happens for a reason.
Watch Romper's new video series, Romper's Doula Diaries:
Check out the entire Romper's Doula Diaries series and other videos on Facebook and the Bustle app across Apple TV, Roku, and Amazon Fire TV.