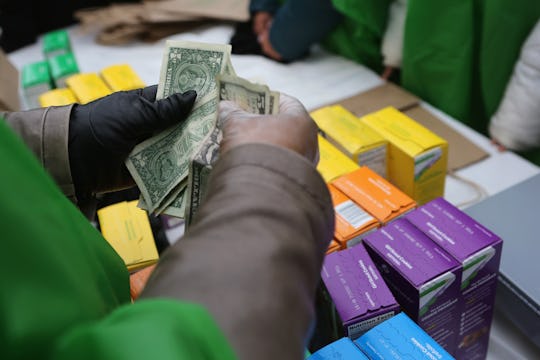 John Moore/Getty Images News/Getty Images
The History Of Girl Scout Cookies Proves How Important Empowering Young Women Really Is
This time every year, my oldest daughter starts going door-to-door with a wagon-full of Girl Scout cookies. It kind of makes me nostalgic about my own days as Girl Scout, proudly earning badges and eating my fair share of Thin Mints and Caramel deLites. It also makes me wonder about the history of Girl Scout Cookies. I mean, when, how, and why did the Girl Scouts start selling those addictive cookies? Besides, of course, to hurt our bank accounts and leave us jonesing for next year's Girl Scout cookie season.
According to Girl Scouts of the USA, 2018 marks the 101st year of Girl Scout cookie sales. Starting from humble beginnings, the first Girl Scout cookies were baked at home by the girls themselves, then sold at a local high schools. As reported by People, the first official Girl Scout cookies were humble sugar cookies, based on a recipe shared by a Chicago-area director in the July 1922 issue of The American Girl magazine. According to Time Girl Scout cookies weren't commercially baked until 1936, and today's bestselling cookie variety — Thin Mints — weren't added to the cookie roster until 1939. While our favorite annual Girl Scout Cookie sale sprouted from a foundation of modestly, today it raises $800 million annually to support girls empowerment programs across the country. Talk about a success story, right?
According to Girl Scouts of the USA, Girl Scouts have sold cookies since 1917. While today Girl Scout cookies are baked by two large commercial bakers — ABC Bakers and Little Brownie Bakers (owned by Kellogg's) — in the early days of the iconic fundraiser, the scouts themselves baked cookies at home, using their moms as their go-to "technical advisers." According to the same website, the Mistletoe Troop in Muskogee, OK was the first Girl Scout troop to bake and sell cookies to raise money.
According to People, the Girl Scouts of the USA took the idea of selling cookies nationwide by sharing a recipe in the July 1922 issue of The American Girl magazine, which was published by the organization. Florence E. Neil, a director from Chicago, shared the first recipe for Girl Scout Cookies — a simple sugar cookie. While Time reports that most councils across the country now sell cookies for $5.00 a box, Girl Scout cookies originally sold for only 25 - 30 cents a dozen. I'll take a case, please.
As reported by Time, the Girl Scouts didn't officially standardize the cookies they sold until 1936, when they licensed their first commercial baker. They didn't add their go-to bestseller, Thin Mints, until 1939. According to Girl Scouts of the USA, 12 cookie varieties are available this year, including five that are vegan — Thin Mints, Girl Scout S'mores, Peanut Butter Patties, Lemonades, and Thanks-A-Lots — and two that are gluten-free — Toffee-tastic and Trios.
Unfortunately, all 12 varieties are not available everywhere. According to Girl Scouts of the USA, this depends entirely on which baker makes Girl Scout cookies for your market. The fact that not every cookie is available nationwide, and that some cookies might taste differently depending on where you live, makes some people rather upset. A writer for Food and Wine magazine, for example, complained that the "same" Girl Scout cookies might taste and look different, depending on where you buy them. Time notes that similar cookies might also be called different names (Samoas and Caramel deLites for instance), depending on which baker baked them. Also, the new Girl Scout S'mores cookies that were introduced in 2017 are two entirely different types of cookies, you guys.
According to Girl Scouts of the USA, depending on where you live, the price per box of cookies might also be different. Local councils set their own prices and also retain 100 percent of net profits from the sale to benefit girls in their community.
While everyone has their favorite kind of Girl Scout cookie, according to a state-by-state poll conducted in 2017 by Influencer.com, most people choose Thin Mints as their favorite. Thin Mints were also the number one seller in most states, followed by Caramel deLites/Somoas, and Tagalongs/Peanut Butter Patties.
While Girl Scout Cookies came from rather humble beginnings and have changed a lot over the past century, one thing's for sure: cookies rule, especially when they support a good cause, like empowering girls, which the Girl Scouts have been doing for more than 100 years.
Check out Romper's new video series, Bearing The Motherload, where disagreeing parents from different sides of an issue sit down with a mediator and talk about how to support (and not judge) each other's parenting perspectives. New episodes air Mondays on Facebook.