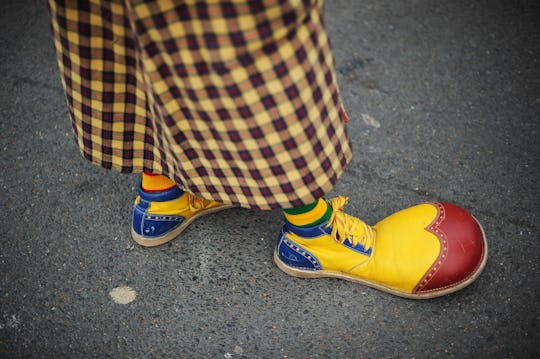 CARL DE SOUZA/AFP/Getty Images
The History Of Scary Clowns Shows That They've Always Been Creepy
Nobody likes clowns, am I right? While some might assume that fear of clowns can be traced back to Stephen King's 1986 novel, It (or the 1985 recurring nightmare by yours truly), the history of scary clowns can actually by traced back to Charles Dickens in 1836, according to Smithsonian Magazine. But that was just the first instance of an intentionally scary clown; some (like me, again) would argue that they've never not been scary. What's under that makeup? Tell me!
There was a brief clown panic starting in Boston in 1981, according to Vocativ, but that was eventually blamed on over-imaginative children. The first reports claimed that clowns were trying to lure children into vans. As the clown sightings spread across the country, reports of knives or swords were added. But no child was ever harmed, and no evidence was ever found. Were there ever any clowns at all? Most doubt it. But now, we all carry camera phones, so things are a little different.
Modern creepy clowns sightings can be traced back to the Northampton, England, clown that scared the pants off of Brits in 2013 just by standing around, holding balloons or sometimes a teddy bear. At least he wasn't trying to lure anyone. That clown appeared to be a one-off, but the following October, there were a handful of stateside clown sightings, according to ABC News, with reports coming out of New Mexico, California, Indiana, and Florida. Still, they weren't nearly as widespread as the current clown panic, which continues to snowball with no sign of stopping. Thanks a lot, internet.
The most recent spate of clown sightings began in Greenville County, South Carolina, in August. The New York Times reported that several children said a pair of clowns had offered them money in an attempt to lure them to an abandoned house in the woods adjacent to their apartment complex. One woman reported seeing a clown loitering under a streetlight at night, and another said a clown had been banging chains against her front door.
Three clown sightings were reported in North Carolina the following week. Similar to the South Carolina incidents, the new reports claimed a clown was attempting to lure children into the woods, although one report was eventually proven to be a hoax.
Nine clowns were arrested in Alabama in mid-September, including two adults and seven juveniles. Seven of the clowns, including the adults and five of the juveniles, are facing felony charges for making terrorist threats, according to AL.com. The remaining two juveniles were charged with misdemeanor harassing communications and child in need of supervision. In Georgia on Sept. 22, a clown reportedly chased two young girls home and then brandished a knife at them. The girls recorded the clown in a Snapchat video which they provided to local ABC affiliate WJBF.
On Sept. 23, a "lurking clown" was arrested in the woods in Kentucky and charged with disorderly conduct after police received several complaints,
A Martinsburg, Pennsylvania, man was arrested and charged with harassing, threatening, and prowling after his neighbor reported that he was lurking around his home while dressed as a clown and carrying an Airsoft pistol on Sept. 25, and a clown mask may somehow be involved in the stabbing death of a Reading teen that same night, although it's unclear whether the mask was worn by the victim, the perpetrator, or a third party.
Ohio had a handful of clown incidents at the end of September, according to Cincinnati.com. First, a Franklin woman reported being chased up to the door of her apartment building on Sept. 28. The next day, A juvenile in Colerain Township was arrested and charged with Making Terrorist Threats and Inducing Panic after threatening (as a clown) threatened to harm students at Colerain High School. Another clown appeared in the woods by Sharonville Elementary school that same day, but did not make any specific threats. Finally, schools in Reading were closed on Sept. 30 after a woman called 911 to report that she'd been attacked by a clown who made threats against students. Kim Youngblood told police dispatchers that the clown grabbed her around her throat, threatened to kill her, and "said that there were going to be teachers and students who were going to be sorry that they were ever born."
Several New Jersey teens are also facing charges relating to threats of clown violence. Monroe Township police are on the hunt for a band of clowns suspected of menacing children with weapons on Sunday, and on Monday, a clown walked into a Parsippany Quick Check armed with a machete, although police say that there is no threat to the public from that particular clown. Law enforcement in Roselle Park has warned the public that going out in public dressed as a clown could result in "criminal prosecution and civil liability," according to New Jersey News 12.
Also on Sunday, a 13-year-old from Virginia was arrested after attempting to hire a clown via social media to kill her teacher.
Maryland has also experienced some clown-related threats on social media, and one juvenile was arrested on Monday and charged with multiple counts, including making a threat of mass violence, according to local NBC affiliate WBAL.
Now, the Utah police are warning citizens that it's illegal to shoot clowns on sight (did they really need to?), schools are banning clown costumes, and mobs of college students are organizing clown hunts. The situation's even caught the attention of Stephen King, who recently implored his fans to "cool the clown hysteria." I'm going to have to side with King here. This needs to stop. Clowns aren't funny, threatening children certainly isn't funny, and it's time for everyone to find a new hobby. If you're that into scaring people, get a job at a haunted house, and leave the kids alone.