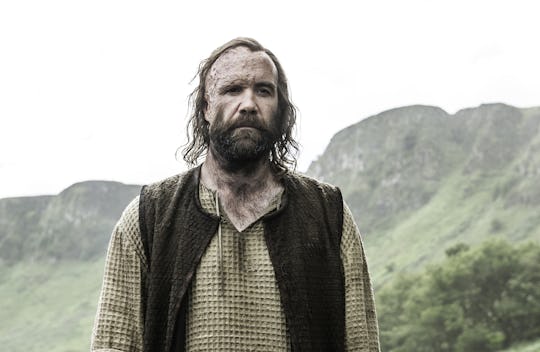 Helen Sloan/HBO
The Hound Theories On 'Game Of Thrones' Could Suggest What's Next For The Clegane
In a cold open that confirmed most Game of Thrones fans suspicions, the last episode brought the return of Sandor Clegane, most popularly known as the Hound. Presumed dead after he was bitten, beaten by Brienne of Tarth, and then left to die by Arya, the Hound is now back after being away for almost two seasons — and with his return comes many Hound theories for future Game of Thrones episodes. At first, it seemed that the Hound had changed from his violent ways, listening to the advice of the pacifist Brother Ray. But that all changed when he returned to the camp to find Brother Ray hanged, and everyone slaughtered by the Brotherhood Without Banners.
Now that he's picked up his axe once more, possibly to kill the Brotherhood, everyone is wondering what the Hound will do next? Killing those men isn't really a big deal in the grand scheme of Game of Thrones, so what is the real purpose of bringing the Hound back, especially now? Well if there's one thing Game of Thrones fans know how to do it's theorize and when it comes to Hound there's theories on top of theories.
There's Cleganebowl, a "SanSan" reunion, and so many more. Check out some of the more popular theories below.
Note: There are some small spoilers within these theories. Read at your own risk.