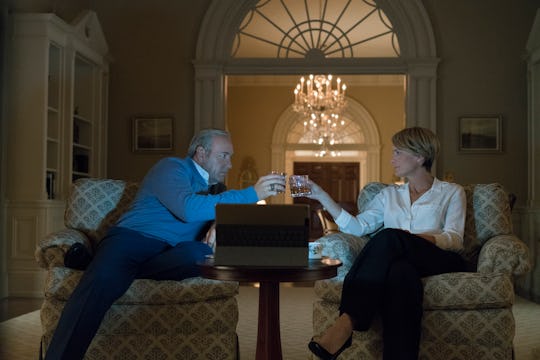 David Giesbrecht/Netflix
The 'House Of Cards' Season 5 Trailer Is One Nation Underwood
After a year-long absence, Netflix's twisty political thriller House of Cards is about to return, and it'll be here before you know it. The fifth season of the critically acclaimed drama is set to premiere on May 30 and fans just got their first hint of what to expect. The House of Cards Season 5 trailer has dropped, and it promises more of the machinations and power plays that have defined the show during its four-year run. It also hints at a dark and unsettling future for everyone involved.
Frank Underwood has always been ruthless when it comes to getting what he wants, and in the Season 5 trailer things are no different. Though he did accomplish one goal when he managed to find his way into the presidency in Season 2, that's not enough for Frank. He may have made a major power grab, but now he has to hold on to that power in a difficult election that might take it from him. He even wants to maintain that power for decades to come. As far as Frank is concerned, he's the only one capable of running the show — even if he has nothing but contempt for the American people.
Much of the trailer is narrated by Frank as he explains his plans to his wife and partner in crime, Claire. "The American people don't know what's best for them. I do. I know exactly what they need," he tells her in voiceover. "They're like little children, Claire. We have to hold their sticky fingers and wipe their filthy mouths. Teach them right from wrong. Tell them what to think and how to feel and what to want. They even need help writing their wildest dreams and crafting their worst fears. Lucky for them, they have me. They have you. Underwood 2016. 2020. 2024. 2028. 2032. 2036. One nation, Underwood."
That little speech makes it clear that Season 5 will continue right where the fourth season left off. Following the events of Season 4, Frank had a vested interest in controlling the American people so he could manipulate them into doing what he wanted. After his crimes were exposed in print, potentially ruining his public image for good (and therefore his chances at another term in office), Frank decided to take drastic measures to terrify the American people into looking to him for guidance out of fear. It looks like his M.O. in Season 5 will remain the same.
Frank may think of himself as the ultimate puppet master, but Season 5 might test just how far his control goes.