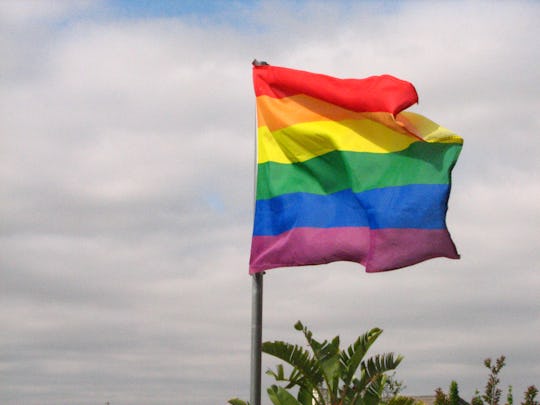 Cary Bass-Deschenes/Flickr
The Houston HERO Act Lost Today, & This Is What It Means For Me, A Trans Woman Living There
In 1994, when I nervously began my transition to a trans woman, it marked the beginning of an amazing journey. I became an activist. I watched my hometown, Houston, become an ever more tolerant place. And then yesterday, in that same Houston, voters rejected an equal rights ordinance protecting LGBT citizens from discrimination. 
The disappointing vote marked the end of an 18-month long campaign to ensure LGBT citizens were protected. The ordinance even had support from the White House, but that wasn't enough to keep it alive. In Houston, the rights and protections of LGBT individuals were defeated, 61 percent to 39. It signaled the end of civil rights awareness, of inclusivity; of freedom.
In 2014, I attended a city council meeting with friends, where we demanded that any pending human rights ordinance in Houston include coverage and visibility of the trans community. The Houston Equal Rights Ordinance (HERO) was first introduced in April that same year, and after a Quality of Life Committee hearing, three contentious, 10-hour city council meetings, a barrage of nasty insults by its staunchest opposition, HERO passed. With an 11-6 vote, to boot. 
The Houston Equal Rights Ordinance prohibited discrimination in public accommodations, employment, and housing. It spanned 15 categories: race, color, national origin, sex, pregnancy, age, veterans status, genetic information, religion, disability, sexual orientation, and gender identity. Seventeen states, including the District of Columbia, and 200 cities offer similar language in their own non-discrimination laws. It meant, for trans Houstonians, that we were visible. 
The day HERO first passed was one of the most euphoric days of my journey and my life. I first became an activist when a local trans-oriented publication called Transgender Tapestry ran a series of articles featuring out and proud trans individuals. On the cover, they featured RuPaul and Dennis Rodman to represent women "like me." In that moment, I vowed to do everything I could to increase the visibility of black trans people in my community and the U.S. as a whole. As a native Houstonian, a human rights advocate, and a black trans person, the passage of HERO meant a huge piece of that goal falling into place. And I was there. I was a part of it. I was seen.
Then in 2015, the fate of HERO was in doubt again. After being sued by opponents, the Texas Supreme Court ordered HERO be put on the ballot or repealed. I hoped Houston would see the wisdom of the ordinance, the safety it provided not only the LGBT community, but every minority category, and keep pushing.  
Sadly, I was wrong.
Opposition to HERO focused on what's known as the "bathroom myth," which asserts that trans men and women pose some sort of danger to other men and women using the same facilities at the same time as them. The myth is that men will take advantage of equal rights laws and disguise themselves as women to attack women. It's wholly untrue, but the scare tactic worked. HERO fell because of it.
Trans men and women who live in Houston will now have to contend with the fallout. For trans-feminine persons in the early stages of transitioning, and even for cisgender women with so-called "masculine features" that resemble those of transitioning trans women, you're no longer legally protected or supported by your local government. There are no consequences for harassment. There's no way of silencing hate. It makes the needs of trans people invisible, and if you're invisible, no one can be prosecuted for terrorizing you. They can't be punished for victimizing someone who doesn't exist.
Soon, opponents may seek to further criminalize trans behaviors. "Bathroom bills" may call for fines or jail time, solely for using facilities that fit our true gender identities rather than the genders we were assigned at birth. The rejection of HERO encourages ignorance, bigotry, hatred, and discrimination. It gives people the right to classify us as Other. And that in turn puts trans lives at risk. 
In Houston, a city I was once so proud to call my own, in a place I was once so proud to live, transphobia has moved back to town. And I hope like hell we can eradicate it. 
Image: Cary Bass-Deschenes/Flickr