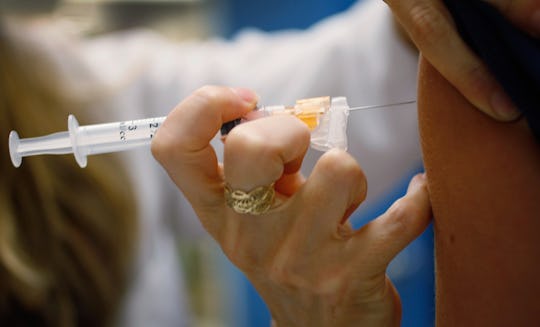 Joe Raedle/Getty Images News/Getty Images
The HPV Vaccine *Definitely* Helps Prevent Cervical Cancer, Study Confirms
Here's a fact: The human papillomavirus — otherwise known as HPV — affects nearly 80 million people people in the United States. Here's another: Most HPV strains go away on their own, but a few can cause health problems, from genital warts to cancer and other diseases. And here's one more fact: The HPV vaccine definitely helps prevent cervical cancer, and new research released this week confirms it.
A large body of research already exists that proves the HPV vaccine can reduce a person's cervical cancer risk. But a team of researchers from Cochrane, a global research non-profit, published new evidence Tuesday that showed the vaccine is effective in protecting people against developing cervical lesions, according to CNN. In particular, the Cochrane Library study found that people vaccinated between 15 and 26 years old saw the greatest protection against the reproductive disease, CNN reported.
The researchers came to this conclusion after analyzing data from more than 20 studies, published over the last eight years, involving more than 73,000 women across all continents. And not only did the Cochrane team confirm that the HPV vaccine helps prevent cervical cancer, they also discovered that the vaccines are not associated with any serious side effects, according to the study's findings.
Lead author Dr. Marc Arbyn, who works in the Unit of Cancer Epidemiology in the Belgian Cancer Center of Sciensano, said of the findings, according to a Cochrane news release:
The committee concluded that the risk-benefit profile of prophylactic HPV vaccines remains favorable and expressed its concerns about unjustified claims of harm that lack biological and epidemiological evidence, and which may affect the confidence of the public. At the same time, the Committee encouraged health authorities to continue surveillance and examination for potential adverse events.
HPV is the most common sexually transmitted infection in the United States, and can be spread either through sex or skin-to-skin contact, according to the U.S. Centers for Disease Control and Prevention. The CDC recommends that children receive the vaccine, which has been proven safe and effective, around 11 or 12 years old to guarantee that they're protected against the virus before they're most likely to be exposed to it. The cut-off age for the vaccine is 26 years old, which means young adults can still take advantage of the preventive medicine if they didn't as preteens.
The U.S. Food and Drug Administration approved three HPV vaccines, all of which protect against strains HPV16 and HPV18 — the ones known to lead to cervical, vulvar, or anal cancer. (A Reviews In Obstetrics & Gynecology study found that these strains account for about 70 percent of cervical cancer cases around the world.) The report found the vaccine decreased cervical precancer risk associated with both types from 341 to 157 for every 10,000 women ages 15 to 25, according to CNN.
The HPV vaccine also lowered general precancer risk, from 559 to 391 per 10,000 women in this age range, CNN reported. As for women older than age 25 who received the vaccine, their cervical precancer risk dipped from 145 to 107 for every 10,000 women, according to the report.
Dr. Jo Morrison, a consultant in gynecological oncology at the U.K.-based Musgrove Park Hospital, told CNN that "the review reassures people that HPV vaccination is effective." Morrison, who was not involved in the report, continued:
[Parents] should be encouraged to vaccinate their daughters, as per the government recommendation.
But, Morrison explained in a Cochrane news release, the HPV vaccines do not protect against all cancers, so regular screenings are still important, even after inoculation. Still, the Cochrane report proves that the HPV vaccine is a necessary tool in cancer prevention, and every kid should be protected.