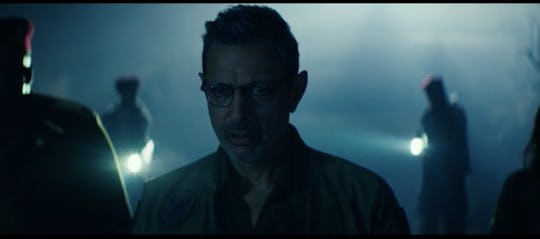 The 'Independence Day: Resurgence' Trailer Is Here, But Where Is Will Smith? — VIDEO
There are few things about my childhood I will never forget: Jeff Goldblum, Will Smith, and being scared sh*tless of aliens. (OK, those aren't the only things, but still, they're pretty big.) Thankfully, I (and the rest of the world) had nothing to worry about because Smith and the Independence Day gang saved the day — but now the threat of life beyond Earth is back (and apparently, it's much scarier). The Independence Day: Resurgence trailer just recently dropped, and it's just as good as any of us could've ever hoped it be. The trailer featured a resurgence of the three things that helped define everything I loved from childhood — Bill Pullman, Jeff Goldblum, that iconic Independence Day speech — but it left me with one big, huge, VERY IMPORTANT lingering question: Where the hell is Will Smith?
When the sequel was first revealed, an announcement was made from the film's New Mexico set that read: "We always knew they were coming back. After Independence Day redefined the event movie genre, the next epic chapter delivers global spectacle on an unimaginable scale. Using recovered alien technology, the nations of Earth have collaborated on an immense defense program to protect the planet. But nothing can prepare us for the aliens' advanced and unprecedented force. Only the ingenuity of a few brave men and women can bring the world back from extinction."
The film, which hits theaters later in 2016 — June 24, to be exact — shows the preparation those on Earth have taken over the course of the past 20 years. Though at the prep, unfortunately, might not be enough. Both Pullman, Goldblum, and Vivica A. Fox have returned to reprise their roles, and they're joined by Liam Hemsworth (who's parents were "lost in the Battle of 1996"), Joey King, Charlotte Gainsbourg, Sela Ward (who plays President Lanford in the Resurgence), Maika Monroe, Jessie Usher, and others.
Smith is nowhere to be found in the trailer (WHERE ARE YOU HIDING, WILL?), but that doesn't mean his character won't play a role in the Second Coming of the Aliens (and if the studio knows what's good for the American public, they better get Captain Steve Hiller back ASAP). Rumors have been swirling that Smith's character died, which means that our only saving grace, it seems, is Goldblum's character David Levinson, who leaves us with one hauntingly terrifying quote:
I spent 20 years trying to get us ready for this. We used their technology to strengthen our planet, but it won't be enough.
Great. Safe to say things on Earth are not looking so hot, you guys.
Image: 20th Century FOX/YouTube