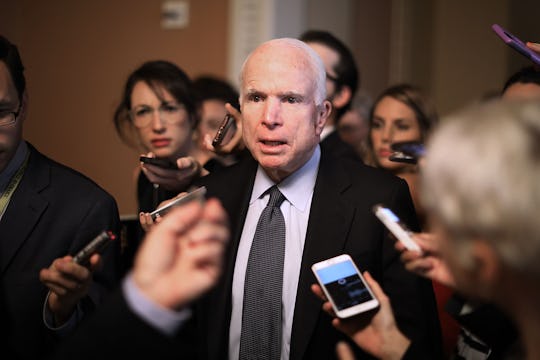 Chip Somodevilla/Getty Images News/Getty Images
The Internet Is Calling Out John McCain After His Hypocritical Health Care Vote
On Tuesday, Sen. John McCain returned to the Capitol to get back to work following surgery. And on the same day as his return, John McCain voted in favor of repealing the ACA — or moving forward to repeal part of or create a replacement for ACA — and the internet has some thoughts about that.
According to The Washington Post, when doctors removed a blood clot above his left eye earlier this month, they discovered that McCain had a brain tumor, which they diagnosed as cancer. During his appearance and speech on the Senate floor, he still had a visible scar from the surgery. So you can imagine how people felt about him voting to continue discussion of repealing legislation that protects health care for millions of other Americans, when he himself just underwent a safe, covered health procedure, and when he will likely pursue further care for his own condition in the near future.
Because although, according to the Post, McCain said he would not vote for the current GOP form of the repeal and replace bill, The Hill reported that he did vote to start debate on the legislation to repeal and replace major parts of Obamacare. But McCain said he had some issues with the way the repeal has proceeded so far, under GOP leadership. According to Vox, McCain said in his speech:
...We try to do this by coming up with a proposal behind closed doors in consultation with the administration, then springing it on skeptical members, trying to convince them that it's better than nothing. That it's better than nothing? Asking us to swallow our doubts and force it past a unified opposition.
I don't think that's going to work in the end, and it probably shouldn't.
But McCain still voted to proceed with debate to eventually repeal or replace the ACA with a bill that Americans and many members of the Senate were not allowed to see, and the internet finds that pretty hypocritical, to say the least.
The Hill reported that McCain's vote was 49th of the 50 needed to advance the measure. It was immediately followed by Wisconsin Sen. Ron Johnson, and with that, debate of the plan to repeal and replace Obamacare on the Senate floor could begin.
And since two Republicans — Sens. Susan Collins of Maine and Lisa Murkowski of Alaska — voted against the motion to proceed with the debate and legislation, according to The Hill, every vote by other Republicans counted. If McCain had voted against it, there would not have been enough votes to proceed. With his vote, there was an even 50-50 split, and Vice President Mike Pence broke the tie.
And people on the internet are not exactly pleased that McCain voted to continue debate of a health care reform bill that could leave millions without health insurance when he himself has adequate health care, which he just recently took advantage of in a major way.
Tom Brennan, a comic book editor, writer, and producer, had this to say on Twitter about McCain's Senate floor speech: "John McCain is giving an outstanding speech about how he shouldn't have just made the vote he just made."
And political commentator Joy Reid tweeted, "This speech McCain is giving is likely meant to be his legacy moment. Oddly enough it comes just after his 'aye' vote to strip healthcare."
And it wasn't just big names or personalities that were unhappy with McCain's vote on Tuesday. "John McCain" was the number one trending topic in the United States not long after his vote, and most of the more popular tweets mentioning him were not exactly glowing.
USA Today reported that McCain returned for the vote less than a week after his own surgery.
Twitter user @shannychick tweeted, "John McCain, with his wonderful health care, just flew back to vote against millions of Americans! He is no maverick or hero. Shame on him!"
And some responses on the internet to McCain's vote were more, shall we say, succinct than others. Lizz Winstead, the founder of Lady Parts Justice — an organization committed to raising awareness of legislation and other attempts to block women's reproductive health care freedoms and the co-creator of The Daily Show — tweeted simply, "John McCain is Disgraceful."
Even God got in on the Twitter discussion about McCain's vote — well, not really God, but the popular @TheGoodGodAbove Twitter account. They tweeted, "So brave of John McCain to race back from the hospital to take healthcare away from 22 million people."
The internet is not happy with McCain for his vote to advance discussion of repealing and replacing parts of the Affordable Care Act. But can you blame any of those people? McCain just returned from surgery to improve his quality of life, and he will likely have great health care to assist with his unfortunate cancer diagnosis in the coming days. Don't all Americans deserve exactly the same thing?