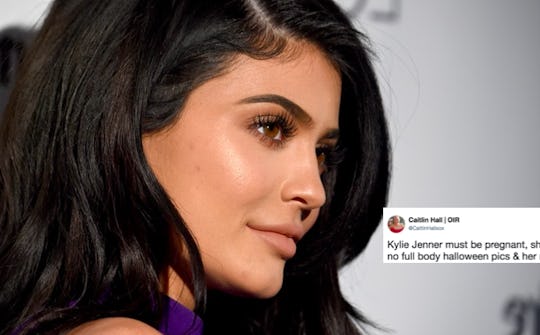 Frazer Harrison/Getty Images Entertainment/Getty Images & @CaitlinHallxox/ Twitter
The Internet Is *Certain* Kylie Jenner Confirmed The Sex Of Her Baby With This Photo
Kylie Jenner's reported pregnancy is shrouded in secrecy and full of questions. Since TMZ first reported the news nearly two months ago in September, Jenner has been keeping super quiet, neither confirming or denying the rumors. Romper has reached out the Jenner's reps, but has not heard back at this time. So, nobody knows for sure if she's indeed pregnant, let alone if she is expecting a boy or a girl. But Jenner's latest Instagram might reveal too much because the internet is certain Jenner just confirmed the sex of her baby with her most recent photo.
If you were dying to know what Jenner is having, you would probably take this photo as a sign, too. After weeks of posting throwback photos, photos from her shoulders up, and photos of her lip kits on her Instagram feed, Jenner's latest photo is a much welcomed change up from her mysterious posts.
In the photo, Jenner's nails which are painted a bold baby pink, and her fingers which are adorned in pink diamond encrusted butterfly rings. While this photo might have been a picture of Jenner showing off her manicure at any other time of the year, this time it is different.
Butterflies hold special meaning in Jenner and her boyfriend Travis Scott's relationship, according to People, and both Jenner and Scott have matching butterfly tattoos. This symbolism, combined with the fact that her nails are so pink, seem to be an indicator to some that Jenner could very well be having a girl. But, of course, nothing is certain.
Jenner's caption of "shoot day" definitely doesn't help either. "Shoot day" definitely means that Jenner will be partaking in a photo shoot. And after months of seeing candid photos of Jenner dressed in baggy clothes and avoiding the camera (for what seems like the first time) it will be refreshing to see some new high quality photos of the cosmetics mogul. But what kind of photo shoot is anyone's guess. Maybe one for a gender reveal?
Fans could only hope that Jenner is shooting her gender reveal, especially after weeks of keeping quiet about the reported pregnancy. Many of her followers took to the photo's comments to express their hope that this photo serves as confirmation that she is having a girl.
"Conspiracy theory. Maybe she is shooting pregnancy photos?," one commenter wrote. "Maternity shoot?" another asked. "It's a girl!" one commenter said. And others took to Twitter to echo these same sentiments.
If there wasn't already fuel to the fire, Jenner's Halloween Instagram might also have confirmed the big news, in the eyes of her followers. Jenner is not one to shy away from celebrating Halloween (her Christina Aguilera costume last year was a huge hit). But this year, Jenner kept her look "low-key" dressing up as an angel to her best friend, Jordan Wood's devil. But throughout the night, photos were only taken of Jenner from the chest up, hiding all indication of a growing pregnancy bump.
With the look she served last year, this low-key Halloween look could only mean one thing to fans — Jenner is hiding a pregnancy. And as they usually do, fans took to Twitter to speculate about her Halloween weekend plans.
This wouldn't be the first time that people have speculated that Jenner is having a girl. Shortly after reporting that Jenner was reportedly pregnant, TMZ reported that sources close to the couple confirmed that they were expecting a girl. Since then, fans have speculated that certain photos and things that Jenner posts have been clear hints that she is having a boy or a girl (no one has really made up their minds just yet).
While this photo does not confirm anything about Jenner's reported pregnancy, one thing is for sure — Jenner is partaking in a photoshoot which means fans will have new photos to gawk at, and possibly pretty soon. It might not be a sex reveal or even address these pregnancy rumors, but a new Jenner photo shoot is the next best thing.
Watch Romper's new video series, Romper's Doula Diaries:
Check out the entire Romper's Doula Diaries series and other videos on Facebook and the Bustle app across Apple TV, Roku, and Amazon Fire TV.