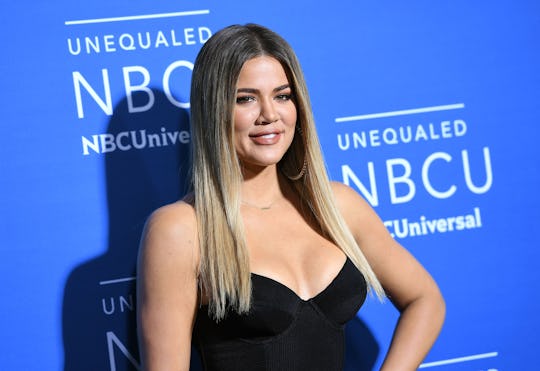 ANGELA WEISS/AFP/Getty Images
The Internet Is Convinced Khloe Kardashian's Pregnancy Rumor Is A Prank
Well, in case you've been hiding in a cave for the past week, you're well aware that the youngest member of the Kardashian-Jenner clan, Kylie Jenner, is reportedly pregnant with her first child. And while those rumors have yet to be confirmed, another one is making itself known. But, if you were getting excited that another Kardashian sister could be expecting a baby soon, don't get your hopes up so soon. The internet is basically convinced that Khloe Kardashian's pregnancy rumor is a prank, and they kind of have a point. (Romper reached out to Kardashian's reps, but did not hear back at the time of publication.)
To be clear, while news broke of Kylie Jenner's pregnancy on Friday, no one in the family has confirmed the update, not even Kylie herself. So, until that happens, there really can't be any assumptions about the validity of the news. And now, as yet another story from anonymous sources is claiming that Khloe Kardashian is pregnant, it's continually important to look at this news with a critical eye. However, according to Us Weekly, Kardashian is pregnant with her first child with her long-term boyfriend, Tristan Thompson.
But, Twitter users were quick to be skeptical about the news, pointing out the weird timing of this announcement and the news that Kylie is pregnant.
A Lot Of People Just Literally Could *Not*
Since no one in the family have even confirmed the reports that Kylie is pregnant, it's unlikely that anyone would comment on Khloe's rumored pregnancy so soon after the news broke. However, many think that this new report could actually be a prank. By who? That much is unclear. However, it wouldn't be too surprising for someone in the family to have leaked this news about Khloe in an attempt to confuse the media and make publications look untrustworthy if it turns out not to be true.
But, that didn't mean that no one believed the news. Many have been sending Kardashian good thoughts and congratulating her as well.
Some Fans Were Really Excited
Fans of Keeping Up With The Kardashians will know that Khloe has long wanted to be a mom. In fact, Us Weekly also noted that in a June episode of the series, Kardashian revealed that Thompson really wanted to have kids. "He wants to have, like, five or six kids with me, and that's lovely," she said on the show. "We could start at one and then grow from there. But now, knowing I'm not on birth control, it's really scary. It's like a really big step."
So, if these reports do turn out to be false, it would likely be hard for Kardashian herself to have to hear, and that's not cool. However, just like internet users were quick to point out after Kylie's pregnancy was initially reported, this could very well be some pretty genius -level marketing from momager Kris Jenner.
Many Think It Could Just Be Really Smart Advertising
Of course, the new season of Keeping Up With The Kardashians is set to premiere Sunday, Oct. 1, so many are noting that all of this publicity can only be a good thing when it comes to ratings. But really, until Khloe herself addresses these reports, nothing can be known for sure. And that's OK! It's her life, and no one else's. She can choose to acknowledge, or not to acknowledge, these rumors however, and whenever, she pleases.
Whatever the case, though, if these reports do turn out to be true, then congratulations are certainly in order for Khloe and Tristan, as the two are sure to be awesome and loving parents. And if the reports are false, well then it seems that the world has learned an important lesson about rumors.
Watch Romper's new video series, Romper's Doula Diaries:
Check out the entire Romper's Doula Diaries series and other videos on Facebook and the Bustle app across Apple TV, Roku, and Amazon Fire TV.