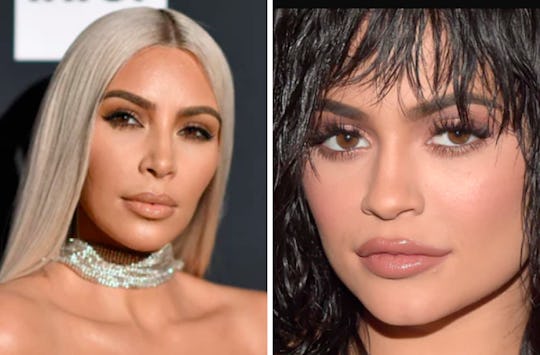 Dimitrios Kambouris/Getty Images Entertainment/Getty Images, Jason Kempin/Getty Images Entertainment/Getty Images
This Bizarre Theory About Kylie Jenner's Pregnancy Could Explain ~Everything~
On Friday, just before the majority of people left work to reward themselves for a week well done, the Kardashian/Jenner family stopped everyone in their tracks. TMZ broke the news that Kylie Jenner was reportedly pregnant with her first child, and People later confirmed the news via a source, and said that Jenner and Travis Scott, the father of the baby, were "very excited." Now, that's a lot to take in as a Citizen of the World, but what if I told you fans were theorizing that Kylie Jenner was Kim Kardashian's surrogate. Because, yes, that's currently the leading theory that the Internet has about this ~groundbreaking~ news.
Of course, there is literally no proof to this theory, but the Internet wants what it wants, and right now they want some form of resolution to this news. The youngest Jenner is currently 20 years old, and has been dating Travis Scott since earlier this year, after breaking up with her on-again, off-again boyfriend. According to People, the two started to tell friends a few weeks ago, and the couple are really (People reports "REALLY" in all caps) excited about the forthcoming edition to the family.
Romper reached out to both Jenner and Scott's reps, but did not hear back.
Twitter has a ton of opinions on this news, but the most earth shattering theory happening right now is that Jenner is the surrogate for her older sister Kim Kardashian, who is expecting a daughter in January with her husband Kanye West. (Heard of them?)
Clearly this is something that people of Earth are invested in. And while it isn't completely insane to think that a Kardashian/Jenner would volunteer to be Kim Kardashian West's surrogate (Kourtney Kardashian and mom Kris Jenner already volunteered themselves to carry the third child of the Kardashian-West family), there really isn't any proof towards this theory being true. In fact, there is almost proof that it isn't true — I'm sorry Twitter, but I don't think you solved this case.
While there's always the chance that all of the reporting around Kim's surrogacy could be wrong, let's examine what we do know about the woman carrying Kim's third child. First of all, and probably the biggest sell that Kylie isn't Kim's surrogate — TMZ reported that the surrogate is reportedly already a mother of two. And that she is a black woman. And has a husband. Who she has been married to for five years. And, she has reportedly served as a surrogate before. So, to sum it up, no, Kylie is probably not Kim's surrogate.
Plus, just to get in my daily feminist rant, Kylie should be allowed to enjoy her pregnancy without being tied to her sister Kim. Of course, this family comes as A Unit in many ways — they've shared most of their life for the past 10 years to the public — but in this moment, let's not make Kylie's pregnancy about Kim. Let's not make Kim's surrogacy about Kylie. Let's let each woman exist alongside each other, enjoying what is to come and being as public, or not public, as they want to be.
So, while we wait for there to be more news and more information surrounding this news, let's leave the sleuthing, deducing, theorizing, and Twitter mystery-solving to the professionals. Since, as the one and only Kris Jenner once said, when things like this get serious, "this is a case for the FBI."
Watch Romper's new video series, Romper's Doula Diaries:
Check out the entire Romper's Doula Diaries series and other videos on Facebook and the Bustle app across Apple TV, Roku, and Amazon Fire TV.