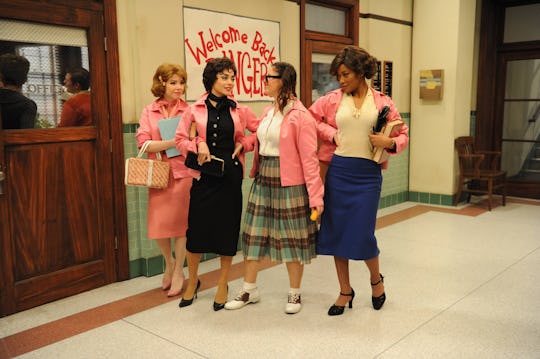 Michael Becker/FOX
The Internet Lauds Vanessa Hudgens' 'Grease: Live!' Performance After Her Father Dies
The saying goes that "the show must go on," but that was undeniably a difficult task for Grease: Live!'s Rizzo, Vanessa Hudgens. News broke earlier Sunday that Hudgens' father had died over the weekend at the age of 65. The actress later tweeted she would do the show in her dad's honor, which earned her praise from peers and fans.
Hudgens revealed her dad, Greg Hudgens, was battling an advanced form of cancer in August at a benefit show. According to E! Online, she said at the time:
Let me tell you, I hate cancer. I hate cancer with every cell of my being... If you would have asked me two years ago what I thought of cancer, I would have said, 'Man, you know, it sucks. It's a horrible disease.' But that's only because I had not been faced with it personally.
Just hours before Fox's Grease: Live!, Hudgens shared the tragic update that her dad had died from the disease. "I am so sad to say that last night my daddy, Greg passed away from stage 4 cancer," Hudgens wrote in a tweet Sunday morning. "Thank you to everyone who kept him in your prayers."
People quickly started offering their support for Hudgens, who expertly played the role of Rizzo in the live production. One of the most touching messages came from Ashley Tisdale, Hudgens' good friend and High School Musical co-star.
Others shared their own uplifting messages on Twitter:
When the show began, Hudgens demonstrated her strength even more — amid Hudgens personal tragedy, her Rizzo nearly stole the show — and viewers were floored.
Way to go, Vanessa... A fitting tribute, indeed.