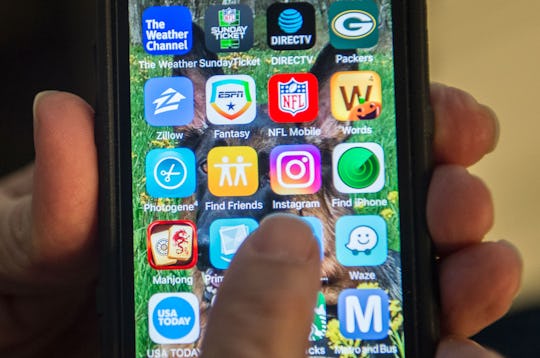 ANDREW CABALLERO-REYNOLDS/AFP/Getty Images
The iPhone 8's Coolest Feature Is One People Have Been Waiting For Forever
While it's been less than two months since the launch of the iPhone 7, there are already rumors swirling about the iPhone 8, which will be released some time next year. According to Mashable, details about the incipient iPhone were leaked in the Nekkei Asian Review last week. If the rumors are to be believed, it seems possible that the iPhone 8's coolest feature is one that people have been anticipating for quite some time.
According to Nekkei, an unnamed source who is "familiar with the matter" confirms that Foxconn Technology Group, a Chinese manufacturing company that works on the iPhone, is producing "wireless charging modules" that will be introduced in 2017, which corresponds to the iPhone's 10th anniversary. What does this mean? It means that wireless charging is coming to the iPhone. One day in the not-too-distant future, you might not need a plug-in cord to charge an iPhone.
The precise details of the technology remain unknown, but it's not an unprecedented move: Some Samsung phones already use wireless charging pads, and Apple Watch uses wireless charging as well. The news is also in line with previous reports at The Verge that Apple has been using the services of engineers who specialize in wireless charging. A Forbes report on the various rumors about the iPhone 8 classifies wireless charging as "a very good bet."
This isn't the only recent news about the iPhone 8. According to another report in Nekkei, a senior executive at Sharp, a Japanese electronics manufacturer, has suggested that the iPhone 8 will adopt OLED displays to replace their current LCD screens. OLED, which stands for organic light-emitting diode, provides better contrast with more efficient power consumption, according to Forbes. This good news came via a rather unexpected source. According to Quartz, Tai Jeng-wu, a president at Sharp, talked about the new OLED screen during a speech at Tatung University in Taiwan, his alma mater.
As reported in Nekkei, Jeng-wu's precise words were, "the iPhone has been evolving and now it is switching from LTPS (low-temperature poly-silicon) to OLED panels." Seems pretty straightforward, no? Sure, he didn't say precisely when this change would occur, but the iPhone 8 seems like a good bet.
And frankly, the iPhone could use a change. News came out this week that iPhone 7 sales are down in China, and here in the United States, the iPhone 7 has been widely deemed a disappointment. In its review of the iPhone 7, Macworld cleverly announced that it is an "attractive option — unless you own an iPhone 6s." Not only that, but the iPhone's new operating system upgrade, the iOS10, has caused serious performance problems for iPhone 5 owners – so much so that CNET advised its readers to "proceed with caution" if you're an iPhone 5 owner contemplating the "upgrade." Perhaps it shouldn't be surprising, then, that Apple stock has been underperforming all year.
But fear not, Apple devotees! 2017 is shaping up to be a promising year for the iPhone, even if we have to wait a bit longer for all the details.