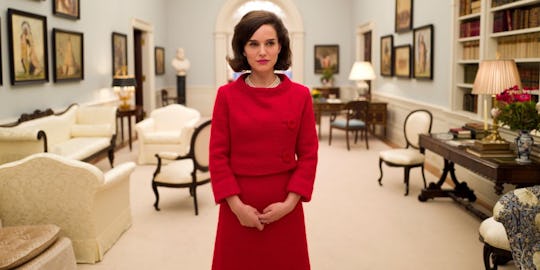 The 'Jackie' Trailer Starring Natalie Portman Is Here & It Is Haunting
If you're a person who is all about the Oscars, you have a new film to jot down on your watch list, and it's an intense one, to put it mildly. See for yourself in Pablo Larraín's recently released trailer for the biopic Jackie. The Fox Searchlight film is a portrait of Jacqueline Kennedy played by Academy Award winner Natalie Portman. The film seems to revolve around the many brave faces Jackie puts on as she coped with the aftermath of her husband, John F. Kennedy's assassination, led by Natalie Portman's already buzzed about portrayal of the former First Lady.
Through Larraín's lens, personal space does not exist. Audiences are taken into the shower with Mrs. Kennedy as she scrubs her husband's blood from her hair. They also celebrate happy moments with her as she watches her son blow out his third birthday candles. Jackie is not a simple, cut and dry informative recount of events. It's complex and emotional, and forces viewers to enter the grief-ridden thoughts of Jacqueline Kennedy's psyche. Resultantly, much is to be anticipated from the movie that revisits this dark time in history.
Variety calls the film a "brilliantly constructed, diamond-hard character study."
"It's a collation of aesthetic choices that push us persistently and ever-so-subtly into the discomfort zone. Sebastián Sepúlveda edits it into non-sequential shards of memory, jaggedly disarranged in the manner of post-traumatic consciousness, while cinematographer Stéphane Fontaine's searching close-ups repeatedly step an inch too far into its subject's already frail personal space."
The teaser is somewhat haunting. In it, we are presented the "brief, shining moment[s]" that make up Jackie's Camelot, later crossed with moments of sadness and mourning.
The Camelot song plays over the footage tormenting Jackie, and is a musical reminder of a life that has been stolen from her.
"There won't be another Camelot. Not another Camelot," the emotionally shattered First Lady whispers at the end of the trailer, in a tone of defeat. She sits next to her husband's casket dazed with pursed lips. Her lips don't move, making it obvious that the audio during the trailer is a verbalization of her stream of conscious, or possibly from another scene.
We watch on painfully as her world is instantly destroyed and her internal struggles awaken. The world will mourn with Jackie at select theaters on Dec. 2. I'd advise you to bring some tissues, and maybe hire a therapist... you know, just to be safe.