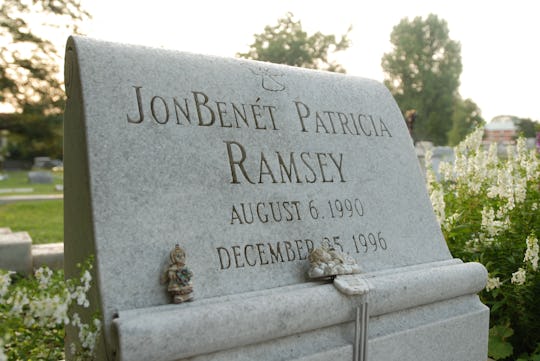 Barry Williams/Getty Images News/Getty Images
The JonBenet Ramsey 911 Call Transcript Reveals Her Mother's Desperation
Twenty years after her murder shocked the nation, JonBenét Ramsey is the subject of a new docu-series on CBS. The Case of: JonBenét Ramsey will premiere on Sept. 18 and will focus on her mother Patsy Ramsey's frantic call to 911, prior to the discovery of her daughter's lifeless body. The JonBenét Ramsey 911 call transcript reveals Ramsey's desperation upon finding her daughter missing and the ransom note later discovered in the home.
JonBenét, a 6-year-old pageant queen from Boulder, Colorado, was found beaten and strangled to death in 1996 on Christmas day. A ransom note demanding $118,000 was left in the Ramsey's home. Her family was the subject of several subsequent investigations, but were all ultimately cleared as suspects in the case, which remains unsolved. (Romper reached out to the Ramsey family's representation but did not hear back at the time of publication.)
As the newly released trailer shows, it was the moments after the initial Ramsey 911 conversation that are getting the most attention. The series itself will include further audio analysis of a few minutes from the 911 call when the Ramseys reportedly believed the phone was disconnected. It will also feature the 911 operator who took Patsy's call.
"Twenty years, nobody asked me," the operator says in a featured clip, while wiping away a tear. "I think it would have really turned the case around."
CBS has assembled several experts, "to try and solve the case once and for all," including Jim Clemente, a former member of the FBI who worked on the case.
"We hope to get the truth out about how she died," Clemente said in a preview of the series. Thousands are expected to tune in as Clemente and several others try and get to the bottom of a mystery that has confounded the country for two decades.
A full transcript of the 911 call can be found below:
Patsy Ramsey: (inaudible) police.
911: (inaudible)
PR: 755 Fifteenth Street
911: What is going on there ma'am?
PR: We have a kidnapping... Hurry, please
911: Explain to me what is going on, ok?
PR: We have a ...There's a note left and our daughter is gone
911: A note was left and your daughter is gone?
PR: Yes.
911: How old is you daughter?
PR: She is six years old she is blond...six years old
911: How long ago was this?
PR: I don't know. Just found a note and my daughter is missing.
911: Does it say who took her?
PR: What?
911: Does it say who took her?
PR: No I don't know, it's—there... there is a ransom note here.
911: It's a ransom note.
PR: It says S.B.T.C. Victory...please
911: OK, what's your name? Are you...
PR: Patsy Ramsey... I am the mother. Oh my God. Please.
911: I'm...Ok, I'm sending an officer over, ok?
PR: Please.
911: Do you know how long she's been gone?
PR: No, I don't, please, we just got up and she's not here. Oh my God. Please.
911: Ok.
PR: Please send somebody.
911: I am, honey.
PR: Please.
911: Take a deep breath (inaudible).
PR: Hurry, hurry, hurry (inaudible).
911: Patsy? Patsy? Patsy? Patsy? Patsy?
At this point, the call cuts out, although it seemed to some later that Ramsey was repeating something ("Help me, Jesus") after she believed the phone had been disconnected. Romper reached out to the Boulder Police for comment, but did not hear back at the time of publication.
While the CBS series intends to root out as many unearthed details as possible, one thing is certain: Patsy Ramsey's 911 call is perhaps one of the most devastating aspects of little JonBenét's homicide case.