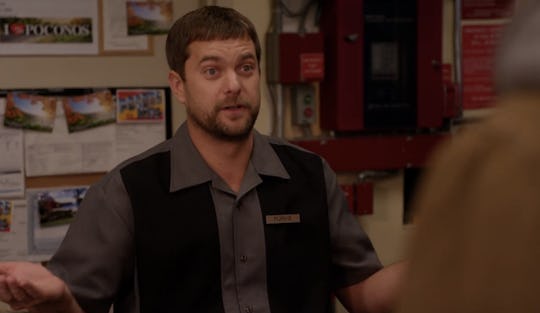 Netflix
The Joshua Jackson Cameo On 'Unbreakable Kimmy Schmidt' Brings 'Dawson's Creek' To Life
There is no shortage of amazing cameos on Unbreakable Kimmy Schmidt. In fact, I'd say aside from the incredible pop culture references, a surprise cameo/ guest star is what the show does best. That was certainly the case in Episode 7 of Unbreakable Kimmy Schmidt Season 2 when Joshua Jackson showed up as a convenience store clerk just looking to give some not-so-Dawson's-Creek advice to a lovestruck Kimmy and Dong.
After their weekend getaway took a turn for the serious, Kimmy and Dong find themselves at the convenience store looking to buy an ice pack-turned-condoms for what is bound to happen at their totally-not-murdery hotel that they checked-in to. (Just ignore the blood coming out of the sure-to-get-you-pregnant "butt-shaped" hot tub in the middle of the room.) Kimmy wants their romantic weekend away to be just like Dawson's Creek, not like Home Alone, which it has somehow turned into. It doesn't help that she instinctively smacked Dong on the head with a telephone every single time he tried to kiss her.
Jackson— who does not play himself, but a clerk named "Purvis" — is spotted by Kimmy as she explains that she wants her weekend to be like when Dawson and Joey finally kissed at the end of Season 1 of Dawson's Creek. (Note: she's only seen the first season of the show, for totally normal "not weird reasons" like being abducted from normal life.) Jackson — sorry, Purvis — laughs at Kimmy's naivety towards Dawson's Creek, noting that Joey doesn't even end up with Dawson. (P.S. it still hurts me, a little.) Purvis proves to be quite the Dawson's Creek aficionado, even giving Pacey's "doughy little boy body" a shout out during reasons Joey should have listed before having sex with Pacey during the class ski trip.
I loved the cameo from Jackson, who has recently starred in things like The Affair and Smart People on Broadway. It's always fun when these Easter eggs come up in shows that already pay homage to the greatest moments in pop culture. This is just one more reason why Unbreakable Kimmy Schmidt is a show of its own category. And Jackson, thanks for playing along.