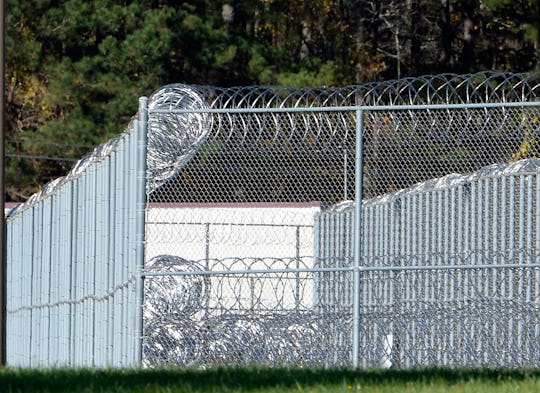 Sara D. Davis/Getty Images News/Getty Images
The Justice Department Will Stop Using Private Prisons, & Here's Why That's Amazing
Anyone who followed the Democratic primary got a crash course in criminal justice reform. Both Democratic presidential nominee Hillary Clinton and Vermont Sen. Bernie Sanders spotlighted for-profit prisons during their campaigns, drawing attention to the drawbacks and dangers of privatizing punishment. The Justice Department will stop using private prisons, according to The Washington Post. For advocates of prison reform, this is a major victory.
Deputy Attorney General Sally Yates informed officials Thursday of her decision to eliminate federal contracts with private prisons; it will begin with a reduction in the number of federal prisoners sent to private facilities. She outlined her reasoning in a Department of Justice memo published online by The Washington Post:
Private prisons served an important role during a difficult period, but time has shown that they compare poorly to our own Bureau facilities. They simply do not provide the same level of correctional services, programs, and resources; they do not save substantially on costs; and as noted in a recent report by the Department's Office of Inspector General, they do not maintain the same level of safety and security.
When Yates mentions a "difficult period," she's referring to the nation's recent decades of rising incarceration numbers. In a post for the United States Department of Justice blog, Yates wrote that there was an 800 percent increase in the number of federal prisoners in just over three decades. Though the population began to rise in 1980, the Justice Department has only sent prisoners to privately-held facilities for about the last 10 years. In 2013, that meant the federal government kept 15 percent of incarcerated individuals in for-profit prisons.
The solution had significant consequences: according to NBC News, an August report from the Office of the Inspector General indicated that for-profit prisons are not as safe as the Bureau of Prisons' facilities, both for incarcerated individuals and for staff. In her memo, Yates also indicated that privately-operated institutions do not have comparable "rehabilitative services," making it more challenging to decrease recidivism rates and ease the transition of individuals back into society. For those reasons, Yates directed officials to either reduce the "scope" of or "decline to renew" contracts that are approaching expiration.
For-profit prisons became a topic of concern during the Democratic primary. Clinton suggested that privately-held prisons and detention centers should be put out of business, CNBC reported. Sanders said that there are moral issues inherent in running prisons for profit:
Criminal justice and public safety are, without a doubt, the responsibility of the citizens of our country, not private corporations, and they should be carried out by those who answer to voters, not those who answer to investors.
Unfortunately, there are a number of politicians complicit in efforts to help for-profit companies corner the correctional market. A report from the Office of the Inspector General indicates that the Justice Department contracts with three companies who provide private facilities: "Corrections Corporation of America; GEO Group, Inc.; and Management and Training Corporation." These private companies fund candidates who support legislation that, directly or indirectly, increases their profits, according to The Sentencing Project. Even Clinton reportedly received money from lobbyists associated with for-profit prisons, Vice News reported.
Corrections Corporation of America (CCA) made nearly $3,500 in profits per prisoner in 2015, according to CNBC; GEO Group made a little over $2,000 per person. The higher the prison population, the higher the profit; The Sentencing Project argues that companies' donations to campaigns help them ensure that politicians at the state and federal level support legislation that funnels more people into prison. CCA also spent over $1 million per year for more than a decade on lobbying efforts; according to The Sentencing Project, here's why:
These lobbying efforts have gone toward promoting the use of private prisons, increasing the nation's prison population, such as through strict immigration laws, and have also been used to block unfavorable bills, such as those that would put private prisons under the jurisdiction of the Freedom of Information Act or ban private prisons entirely.
The Department of Justice's decision to contract with private prisons may be rooted in a desire to answer a growing incarcerated population, but the financial interests of the companies involved mean that for-profit prisons may contribute to the issue. In 2015, The Washington Post reported that the majority of "private prison contracts" include a minimum required occupancy rate. If it's not met, the cost of maintaining empty cells shifts to taxpayers. Some contracts guarantee "100 percent occupancy," effectively incentivizing convictions accompanied by prison sentences. A study by researchers at the University of Wisconsin-Madison found that individuals in private prisons have longer periods of incarceration than individuals tend to have in government-operated prisons.
In order for private prisons to stay in business, they need to be profitable; at the same time, the government needs to justify the money they're sending to private prisons. For Immigration and Customs Enforcement to maintain their congressionally-approved budget, they're required to have a minimum of 34,000 immigrants incarcerated in the United States, according to The Washington Post. The Office of the Inspector General reported that "many" individuals incarcerated in contract prisons are "Mexican nationals with convictions for immigration offenses." Both the "detention-bed mandate" and the "Criminal Alien Requirement" funnel immigrants into United States prisons, according to Vice News, with a significant consequence:
Since 2009, the total number of people who have entered the federal prison system for immigration offenses is greater than the number of people charged with weapons, violent, or property offenses combined.
Other minority groups suffer from increased incarceration rates, too. The War on Drugs has sent millions of people to prison over the past 40 years, according to the American Civil Liberties Union. The impact of the War on Drugs is significant for people of color:
Despite the fact that white and black people use drugs at similar rates, black people are jailed on drug charges 10 times more often than white people are.
Private prison systems not only incentivize mass incarceration, but they victimize the most vulnerable groups by allowing structural racism to persist through policies that maximize rates of sentencing. Already, the Department of Justice's decision to end contracts with for-profit prisons sent company valuation plummeting; according to CNBC, both CCA and GEO's stocks fell by "more than 40 percent" Thursday. But the change will be gradual, and states are still free from any federal mandate to end relationships with privately-held institutions. Piper Kerman, the activist who inspired the Netflix series Orange is the New Black, argued that in a June piece for Fusion that for-profit prisons must be unilaterally closed:
As long as there are private businesses financially benefiting from mass incarceration, the roadblocks to critically needed criminal justice reform are formidable. By ending state and federal governments' use of private prisons, we can start to remove the profit motive from the center of our decisions on safety and justice; it has no place there.
The Department of Justice's decision may be a move in the right direction, but major changes must be made on both the state and federal level in order to ensure true justice for all.