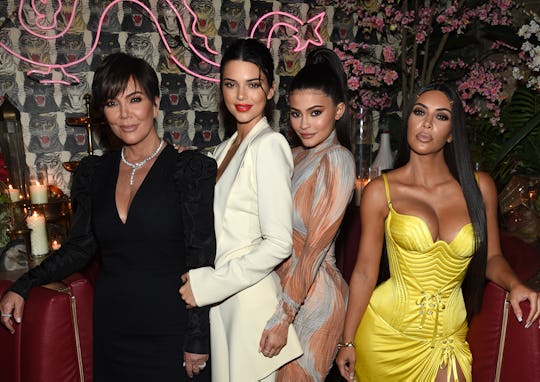 Dimitrios Kambouris/Getty Images Entertainment/Getty Images
Bad News Guys: The Kardashian Family's Christmas Card *May* Not Happen This Year
There are so many things to be excited for during the holidays, and one of those is definitely the KarJenner's annual Christmas card. Every year, Kris Jenner and her children (and grandchildren) dress up to make one epic Christmas card — and they've done so for years. But, according to a certain retweet by Kim Kardashian, the Kardashian family's 2018 Christmas card might not happen and Keeping Up With The Kardashians fans are already so bummed.
Christmas is just one month and a few days away, and people are already finalizing their holiday plans, including the Kardashian family. This makes sense, since the Kardashians are known for their elaborate Christmas decorations, fabulous holiday parties, and incredible Christmas cards. Needless to say, this is one holiday they don't mess around with.
But this year, fans might need to prepare themselves for the possibility that the annual Kardashian Christmas card may not actually happen. That's because, on Tuesday, one Twitter user caught the attention of Kim Kardashian when they made a statement that she appeared to agreed with, thanks to a retweet.
"I feel like with the drama that happened last year, we may not get a Kardashian Christmas card this year," the Twitter user wrote. "I'll be cool with a West family one tho!"
Kim not only retweeted this, but put in some commentary for her own. "Wow, reading my mind," she added. Cue the disappointment.
Sure, people see photos from the Kardashian siblings and their kids nearly every day on Instagram. But Christmas cards are different; it's the one time a year when fans get to see the Kardashians have creative control over styling their own photo shoot that represents their family. Not to mention, it's an amazing way to track how the family has grown and changed throughout the years.
Because of this, the 2018 Kardashian Christmas card would be super special. This year alone, the Kardashian family welcomed three new members into the world, as noted by INSIDER. Kim Kardashian welcomed her daughter, Chicago, in January via surrogate. Kylie Jenner welcomed daughter Stormi with boyfriend, Travis Scott, in February. And in April, Khloé Kardashian gave birth to her daughter, True. Can you just imagine how adorable the Kardashian Christmas card would be with them!?!
But last year's card wasn't exactly worth celebrating. According to Us Weekly, instead of focusing on the family's incredible 25 photo Christmas card, people were obsessed with Kylie Jenner's absence from the card. At the time, Kylie was seven months pregnant, but she was keeping her pregnancy hidden from the public eye, according to Teen Vogue. And instead of being grateful for the Christmas card, fans were fixated on Kylie's whereabouts.
All the mystery and speculation kind of took away from the "magic" of the card and might have been frustrating for Kim and her other family members. And although this year brought a lot of celebration, it also brought some strife, too. Before Khloé was set to give birth earlier this year, some videos surfaced purporting to show her boyfriend, Tristan Thompson, allegedly with other women, according to People.
This all played out on a recent episode of KUWTK. "I'm mature enough to put my personal feelings aside," Khloé said during the episode. "Me and Tristan will deal with him and I at a later time, when this isn't affecting our child."
With all this said, it's easy to see why the family might be reluctant to do one big Christmas card again.
Although Kim's retweet doesn't confirm or deny anything about this year's Christmas card, people might look forward to seeing individual Christmas cards from the Kardashian siblings. Now that every sibling (with the exception of Kendall Jenner) has a family of their own, according to W, it makes sense for them to branch off and start their own unique holiday traditions with their families.
So, if people can't look forward to the entire Kardashian family's Christmas card this year, then they may be able to enjoy Kim's personal Christmas card.
Still, fans are certainly bummed about the possibility of a Christmas without their annual, elaborate Kardashian holiday card. Over on Twitter, fans are begging Kim to keep the card tradition alive, just so they can see all of the babies together.
Only time will tell what the Kardashians end up doing for their Christmas card this year. But given how much the family loves to celebrate the holiday, they'll hopefully share their yuletide joy with their fans in one way or another.