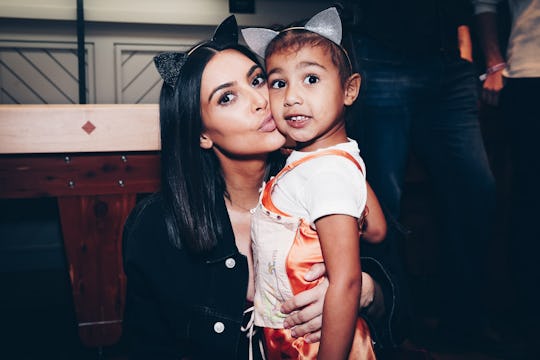 Handout/Getty Images Entertainment/Getty Images
From Skunks To Unicorns, The Kardashian Kids Have Had Some Cute Halloween Costumes
As most Keeping Up With The Kardashians fans know, the famous family is big on fashion; they're super glamorous and have no problem bending the rules when it comes to their outfits... and costumes. So, it shouldn't come as a surprise to anyone that the youngest generation of KarJenners also like to have just as much fun dressing up when they can. Seriously, the Kardashian kids' Halloween costumes over the years show that they could win a few competitions, if they were so inclined to enter, of course.
Although the older generation of Kardashian siblings are looked upon as style icons, the newest and cutest generation is becoming just as iconic in the fashion department. Take their Halloween costumes throughout the years, all of which are adorable and just some that may be a bit difficult to replicate.
Since 2010 (when Kourtney Kardashian's oldest son Mason celebrated his first Halloween), the Kardashian grandkids have been using every Halloween as a day to let loose. But this upcoming Halloween in particular marks a very special occasion: it will be the first year that Kim Kardashian's newest bundle of joy, son Psalm, will get to celebrate Halloween with the rest of his cousins.
And hopefully some very special and creative Halloween costumes will grace our Instagram feeds soon. But as we wait for that day to come, please enjoy their many costumes from the previous years to get excited for what might be to come.
North & Penelope As Skunks In 2014
For Kim's oldest daughter North West's first Halloween where she was old enough to enjoy the holiday (she was only just a few months old during her first Halloween in 2013, according to the Daily Mail) she went as a skunk. Although the choice might have seemed unconventional for a 1-year-old's first Halloween, North rocked the adorable costume.
That same year, North's cousin (and Kourtney's only daughter), Penelope, also got in on the fun, choosing to match North. So adorable.
Mason Went As Darth Vader In 2014
While his sister was a skunk and Kourtney was a cat, Kourtney's oldest child Mason decided to veer away from his family's animal theme and wear a costume of his liking, dressing up as Darth Vader from the Star Wars series.
Also In 2014, North Went As Fashion Icon, Andre Leon Talley
That same year, North West and Kim had the cutest couple's costume idea — Kim dressed up as Vogue editor, Anna Wintour, while North dressed up as Vogue contributing editor, Andre Leon Talley, according to Us Weekly.
Together, the mother daughter duo look super chic. This costume was especially fitting since Kim and husband, Kanye West, were the cover stars for the April 2014 magazine earlier that year, according to Us Weekly.
Then In 2015, North Went As A Lady Bug
In 2015, North and Kourtney's daughter Penelope went trick-or-treating together. In a photo posted to Kim's Instagram account, North, Penelope, and a friend (dressed up as a unicorn) can be seen, walking down the steps of a home wearing their super adorable costumes — North went as a super stylish lady bug while Penelope opted as a superhero.
Kourtney & Her Children Went As Superheroes In 2015
Even the Kardashians are fans of matching Halloween costumes. In 2015, Kourtney Kardashian matched her three kids — sons, Mason and Reign, and daughter, Penelope — when they wore superhero costumes. The entire family looked absolutely adorable (and they even purchased the costumes from Pottery Barn kids, according to Kourtney's Instagram post).
In 2015, North Went As Elsa From Frozen
Hey, no one said you only have to have one Halloween costume per year. That same year, Kim posted this super adorable photo of North wearing an Elsa costume from Frozen around Halloween time. Even celebrity kids are no stranger to obsessing over Frozen just like every other kid all over the world.
Kourtney & Her Kids Went As The Avengers From The Avengers In 2016
One year later, Kourtney and her family were superheroes once again. But this time, they went all out, according to Entertainment Tonight, dressing up as characters from the Avengers. Kourtney's ex (and the father of her kids) Scott Disick went as Captain America, while Kourtney opted for Spiderman. Kourtney's sons Mason and Reign went as Black Panther and Falcon, respectively, while Penelope went as Black Widow.
The costumes look incredible and this idea is great for families with a few kids.
Also In 2016, Kourtney & Her Kids Went As Power Rangers
Kourtney and her kids love to coordinate. This could not be any more apparent when Kourtney and her family matched for another Halloween, going as characters from the Power Rangers TV show and movie. Kourtney and her family are fantastic at coordinating Halloween costumes. Just look at how nice the whole family matches!
In 2016, North & Kim Dressed Up As Princess Jasmine From Aladdin
Kim took a note out of Kourtney's book in 2016, choosing to wear matching Princess Jasmine costumes with North, straight out of the animated film, Aladdin, while her son, Saint, dressed as Aladdin himself.
That year, Kardashian had taken a break from social media after getting robbed at gunpoint in Paris, France. But, her younger brother, Rob Kardashian, was able to share photos and anecdotes from Halloween that year to her website. "North is crazy into Princess Jasmine right now," Rob wrote. And because of it, Kim decided to go all out that Halloween.
"They got a magic carpet, lamp, and Saint had to be Aladdin," he said, according to Us Weekly.
Then In 2017, Dream Kardashian Dressed Up Like A Skeleton
Rob Kardashian's only child, Dream, looked so adorable dressed up as a skeleton for her first Halloween, with her mom Blac Chyna, and brother, King.
Penelope As Dorothy From The Wizard Of Oz In 2017
While the older Kardashians got very into Halloween in 2017, the kids' costumes weren't as widely documented. Last year, Kim went as singers Aaliyah, Madonna, and Cher, according to E! News — but didn't post photos of her kids costumes.
Kourtney did however, posting this super sweet snap of Penelope dressed as Dorothy from the Wizard Of Oz to her Instagram.
In 2018, North & Penelope Went As Kanye West & Lil Pump
In September 2018, Kim's husband released a new song in collaboration with rapper, Lil Pump called "I Love It", according to Billboard. Kanye and Lil Pump took to the Saturday Night Live stage later that month to perform the song where they bounded around on stage dressed as water bottles, according to Entertainment Tonight.
A month later, North and Penelope wore their own versions of the costumes for Halloween.
Saint & Reign Also Went As Kanye West & Lil Pump in 2018
Kim and Kourtney's boys also went as their own versions of Kanye and Lil Pump for Halloween 2018 — but from the music video for the song. Their costumes look identical to the ones in the music video.
Although Kourtney had matched with her kids for Halloween in the years past, according to People, she wrote in an Instagram that in 2018, her kids were going rogue. "My kids don't want to do a group costume with me this year," she wrote.
In 2018, Stormi Webster Went As Stormy Weather
Kylie Jenner went all out for her daughter Stormi Webster's first Halloween. In 2018, Kylie and Stormi got literal and dressed as "stormy weather."
& Stormi Dressed As A Butterfly With Her Mom In 2018
But the two also matched as a pair of pink butterflies for Halloween. Butterflies hold a special significance for Kylie, according to People. She even has a matching butterfly tattoo with her ex-boyfriend (and Stormi's father), Travis Scott, according to Glamour.
It only makes sense that Stormi and Kylie would dress up as one of her favorite things for Stormi's first Halloween.
True Thompson Dressed As A Unicorn For Her First Halloween In 2018
But Stormi wasn't the only one who got to have fun on her first Halloween. Khloé Kardashian's daughter, True Thompson, also celebrated her first holiday in a major way — with a ton of adorable costumes, as HollywoodLife reported.
True and Khloé took a note out of Kylie and Stormi's book and matched her little girl with unicorn costumes. "It's our first Halloween together!!!" Khloé captioned the photo.
Also In 2018, True Dressed Up As A Bunch Of Animals
Khloé clearly had a lot of fun dressing True up for Halloween last year. In another Instagram post in 2018, Khloé shared that she also dressed up as a pig, a lamb, and a tiger for Halloween — that's enough for her own zoo. "I swear she loves dressing up!," Khloé wrote in the caption of the photo series.
Hopefully Halloween 2019 will be just as adorable and epic as years past.