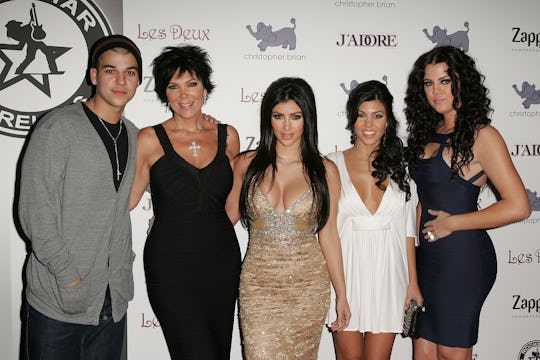 Noel Vasquez/Getty Images Entertainment/Getty Images
The Kardashians' Childhood Nanny Reveals What It Was Like To Work For Kris Jenner
Many people find themselves wondering what it would be like to work for a celebrity, especially someone as powerful and successful as Kris Jenner. The paycheck of working for the head of the Kardashian-Jenner clan would probably be great, but what would the experience be like? Recently, some of that curiosity was satisfied as the Kardashians' childhood nanny revealed in a new interview what it was like to work for Jenner and care for Kim, Kourtney, Khloé, and Rob.
If you want to build any type of profile in the entertainment industry, there has to be some level of perfectionism involved. After all, there's not room for a lot of mistakes and, when any do occur, they need to be artfully spun into a bigger, better narrative. It's something that Jenner has become pretty well known for as she takes on managing the careers of her family, so it's no surprise that a demand for perfectionism is exactly what her former nanny remembers.
On an upcoming episode of Scandal Made Me Famous, as reported by People, Jenner's former nanny, Pam Behan, revealed how working for the Kardashians in the early 90s could be pretty stressful. "I liked Kris and I respected her for many reasons," Behan said in a preview originally published by People. "She was not easy to work for because she was a perfectionist and she expected perfection."
Behan, according to Page Six, worked for the Kardashian family for five years. During that time, she cared for Kourtney, Kim, Khloé, and Rob, according to Page Six. This was all long before the Kardashian family became famous, but the family was still pretty well off and would find themselves catapulted into the public eye through their father's career.
Behan's main responsibilities involved transporting the kids to and from school and other daily activities, according to People, which could prove difficult in a city as big and busy as Los Angeles. "On a daily basis, when she has a very long list and you're fighting L.A traffic and taking kids to their events, and maybe possibly not everything on the list gets done," Behan said, according to People. "There were a few moments where I got an earful."
Before her marriage to Caitlyn Jenner, Kris Jenner was married to the late Robert Kardashian, who was a prominent lawyer at the time. From 1994 to 1995, Kardashian represented OJ Simpson throughout a trial so infamous it would later come to be called the "Trial of the Century". According to People, Behan was working with the family at the time of the infamous OJ Simpson white bronco chase.
This isn't the first time the Kardashians' former nanny has spoken about her experiences working for the family. In 2013, Behan also spoke to the New York Daily News about how the OJ Simpson case led to a kidnapping threat directed at the children. She was also heartbroken, according to the New York Daily News, over the murder of Nicole Simpson, OJ Simpson's ex wife, who was reportedly "like an auntie" to the children.
But, according to Page Six, the demands for perfectionism, the trial, and other moments didn't make Behan despise her job. "At first, I used to be just crushed when she would speak to me like that," Behan said, according to Page Six. "But she vents, she speaks what's on her mind. She wasn't easy to work for, but I did enjoy my job."
For anyone who wants to see the episode of Scandal Made Me Famous, with Behan's clips themselves, it will air on July 21 on Reelz.
Hearing from the Kardashians' former nanny now makes it interesting to remember that there are new nannies taking care of Kim, Kourtney, Khloé, and Rob's own children. And in the next 20 years, who knows what reflections they might have to share about the time they spent working for the family.