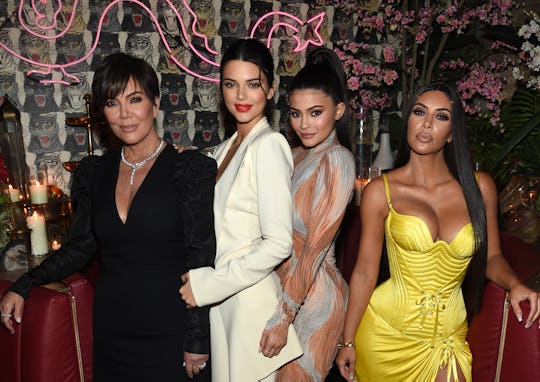 Dimitrios Kambouris/Getty Images Entertainment/Getty Images
The Kardashians Pretty Much Predicted Kylie's Pregnancy, According To Kim
If you follow the Kardashians at all, you may be aware that the youngest daughter of the Keeping Up With the Kardashians family, Kylie Jenner, is also a fairly young mom. But apparently her pregnancy at kind of a young age was not a shock to her famous family. Kim Kardashian West pretty much predicted Kylie's pregnancy years ago, along with the rest of the reality TV show family, though they probably had no idea how close to reality their prediction would be in the end.
Kim and her mom/manager, Kris Jenner, appeared at a Business of Fashion West panel on Monday, according to E! News. At the event, Business of Fashion founder Imran Amed asked them both about their futures once Keeping Up With the Kardashians ends. Kris reportedly joked, "It's going to be here forever!," which yea, honestly, it feels like that most of the time. Season 15 of KUWTK is set to debut this summer, after all, and that's a lot of seasons the Kardashian family and their fans have put in, with seemingly no end in sight.
But it's what Kris and Kim said next about Kylie that was particularly interesting. Kris joked that Kim's young daughter, North West, was going to get married in some future season, and that she "used to say that about Kylie" when her 20-year-old daughter was only 10.
Kim then added, according to E! News:
We used to say, 'Season 17, Kylie has a baby. And we all looked at each other and [were] like, 'Oh sh-t! That just happened.'
And while the KarJenner family isn't quite on their 17th season on TV yet, that prediction was honestly pretty close.
In a 30-second teaser for the next season of KUWTK, Kim said to her sisters, "Things have really changed," according to Us Weekly. Those changes probably include the Kardashian baby boom of the last several months, including the birth of Kylie's daughter, Stormi, on Feb. 1, according to PEOPLE. If Kylie having a baby is documented in this next season, that means Kim and her family were only two seasons off with their prediction.
The next season of the hit E! network show will likely also include the birth of Kim's daughter, Chicago. Kim's third child with her husband, rapper Kanye West, was born in January, not long before Stormi arrived, according to Us Weekly.
The season may also include the birth of Khloé Kardashian's first child with Tristan Thompson, a daughter named True. True was born in April, according to Cosmopolitan, so there might be footage of Khloé's pregnancy.
Of course, Thompson's alleged cheating, reported by The Daily Mail right before Khloé gave birth, may also be included in the upcoming KUWTK season. Thompson's and Kardashian's reps didn't immediately respond to Romper's request for comment on this matter.
Hopefully, there'll be more focus on Kim, Kylie, and Khloé welcoming their beautiful girls into the world, and not so much on the rumors, which are still unverified.
Because the sisters all deserve to celebrate the birth of their daughters and not have that happy occasion overshadowed too much by ugliness — especially Kylie, who has always wanted to be a young mom, according to The Daily Mail. It's certainly interesting that Kylie has often expressed how much she wanted kids and wanted them early, after her family had apparently guessed half her lifetime ago that she would have a baby around this time in her life.
Kim was probably joking, at least a bit, when she made the comment about Kylie having a baby so young at the Business of Fashion event. But it wouldn't surprise me if Kylie's family also just sort of sensed that motherhood was a goal of hers early on, and one that she would achieve before too long. The rest of the KarJenner family may have also been joking all along about Kylie having a baby after so many years of KUWTK being on the air, but in the end, they were actually pretty spot on.