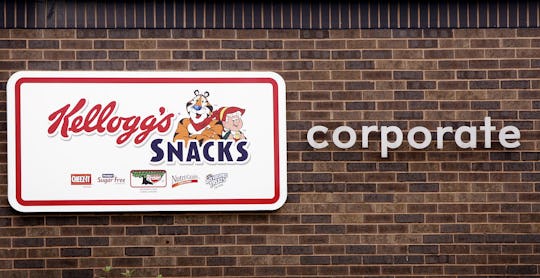 Scott Olson/Getty Images News/Getty Images
The Kellogg Company Has Recalled Some Honey Smacks Cereal, So Check Your Cabinets
The Kellogg Company has recalled some of its Honey Smacks cereal, following the news that a recent salmonella outbreak is linked to the cereal. On Thursday, the Kellogg Company said it is voluntarily recalling 15.3-ounce and 23-ounce packages of the cereal with a "best if used by" date from June 14, 2018, through June 14, 2019, according to CNN. So if you've got Honey Smacks in your pantry, check out the date on the box ASAP.
The Kellogg Company responded to Romper's request for comment regarding the outbreak by referring to the press release on its website, which read in part:
Kellogg Company today announced it is voluntarily recalling 15.3 oz. and 23 oz. packages of Kellogg's® Honey Smacks® cereal (with code dates listed below) because these products have the potential presence of Salmonella. No other Kellogg products are impacted by this recall.
Kellogg launched an investigation with the third-party manufacturer who produces Honey Smacks immediately after being contacted by the Food & Drug Administration (FDA) and Centers for Disease Control (CDC) regarding reported illnesses.
The press release included a chart to identify the recalled products.
After salmonella linked to Honey Smacks cereal infected 73 people in 31 states, Kellogg recalled certain packages to try to keep more people from getting sick. The Centers for Disease Control and Prevention reported that epidemiological evidence shows that Kellogg's Honey Smacks cereal is a likely source of this multi-state outbreak, so it's better to be safe than sorry in this case.
Most of the outbreaks were in California, Massachusetts, New York, and Pennsylvania, according to the Associated Press. No one has died from salmonella poisoning in this particular outbreak.
The recall impacts 15.3-ounce packages of Honey Smacks with the UPS Code 3800039103, and 23-ounce packages with the UPS Code 3800014810, according to the Associated Press.
The CDC reported that the illnesses from the outbreak started from March 3 to May 28, and that 24 people have been hospitalized so far. The agency reported that 30 (or 77 percent) of 39 people interviewed about the foods they ate and other exposures in the week before they got sick reported eating cold cereal, and that 14 people reported eating Kellogg's Honey Smacks cereal specifically.
The people who fell ill reported eating Honey Smacks cereal more than other cereals, CNN reported. So, after the CDC and Food & Drug Administration contacted Kellogg's regarding the reported illnesses, the company said it immediately started an investigation with the third-party manufacturer that actually produces the cereal.
The Honey Smacks recall is just the latest in a series of food recalls due to salmonella in the past few months. Grocery chain Kroger withdrew pre-cut cantaloupe, watermelon, and melon mixes from its stores in Indiana and Michigan recently, after the fruit was linked to possible contamination from a strain of salmonella, according to CNBC. And a farm in Indiana recalled millions of eggs over salmonella fears in April, CNN reported.
There are a few signs and symptoms of salmonella infection to watch out for if you or members of your family have been eating Honey Smacks cereal lately, according to the CDC. The agency reported that most people infected with salmonella develop diarrhea, fever, and abdominal cramps 12 to 72 hours after being exposed to the bacteria.
The illness usually lasts anywhere from four to seven days, and most people recover without needing treatment. But some people do end up hospitalized if the diarrhea is severe enough, and some affected individuals need to be treated with antibiotics, according to the CDC.
Children younger than 5 years of age, adults who are older than 65 years of age, and anyone with a weakened immune system are more at risk of becoming very sick if they are infected with salmonella, according to the CDC. If those demographics include members of your family, it's probably a good idea to be especially vigilant about their health if they've eaten Honey Smacks at all recently.
If you have bought the cereal in the past several months, discard them immediately and contact Kellogg for a full refund, according to a statement on the company's website.
Customers who are concerned can visit this page Kellogg's website about the recall, or call 1-800-962-1413 for more information. Hopefully, this recall will be enough to stop too many more people from getting sick.