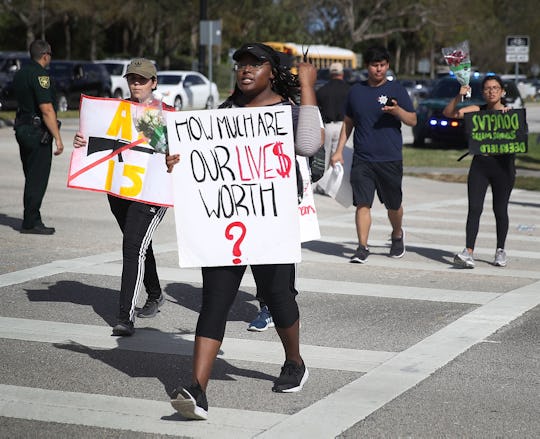 Joe Raedle/Getty Images News/Getty Images
You'll Definitely Want To Hear The LA March For Our Lives Speakers — Here's Who To Expect
This Saturday, thousands of people are expected to take to their cities far and wide to protest gun access in America and let people know that enough is enough. The March For Our Lives, created by a group of survivors from the Marjory Stoneman Douglas school shooting in Parkland, Florida, is expected to demand politicians to make a change and protect the future generations of children. These marches are expected to take place all across the nation, including in major cities like Los Angeles, California. And you'll be impressed by all of the LA March For Our Lives speakers who are dedicating themselves to stand behind such an important cause.
This march in LA will start at 8:30 a.m. in downtown LA, according to the Facebook event page. The march will convene one block away from Pershing Square at 6th and Broadway, according to Facebook — and it's definitely an event you'll want to get to early. That's because the rally and speakers will begin at 8:30 a.m. local time with the march beginning at 10 a.m. and is likely to wrap up at 1 p.m., according to Thrillist. While there are some events you'll attend in life where the speakers don't necessarily make you do a double-take, you will not want to miss out on the people slated to speak at the March For Our Lives in LA.
Amy Schumer, Connie Britton, Olivia Wilde, Skai Jackson, and Yara Sahadi, according to Deadline, are among the many celebrities set to speak this Saturday. Yeah, it's going to be a pretty impressive lineup.
Other celebrities who will be speaking or making special appearances on stage at the LA March For Our Lives include, according to Deadline: Denver Choir, Laura Downes, Ta'Rhonda Jones, Cappie Pondexter, Bret Lockett, Hasan Piker, Jacob Sartorius, Mason Cook, Meg Donnelly, and Sierra Dupri. Singer Charlie Puth, who you have definitely heard on the radio in the past few months, is slated to perform, according to USA Today. That is a lot of celebrities and speakers that you won't want to miss out on hearing.
In addition to some pretty huge celebrities, Los Angeles Mayor Eric Garcetti will be giving introductory remarks to kick off the rally, according to USA Today, and survivors from the Stoneman Douglas high school are even traveling to Los Angeles just to attend the march. Needless to say, you'll definitely want to attend at least one of these major speeches — and the good news is, you don't have to miss them due to finicky LA traffic or parking. Lyft is offering free rides to those attending the March For Our Lives in LA, according to ABC 7, and all people have to do is RSVP to the event. Heck yeah.
But the celebrities who are speaking aren't the only celebrities to show their support for the group of survivors who are leading the change on gun control. George and Amal Clooney, Oprah, and Steven Spielberg are just a few of the celebrities who have donated money to the organizers of the march to help in their efforts to stop gun violence and stand in solidarity with them, according to Deadline.
If these major names (and major crowds) aren't your speed, there are smaller, local marches planned for other cities in the Los Angeles area. But this march in LA isn't one that people will want to miss out on. Not only do you get the chance to see one of your favorite celebrities, but you get to see them in action, lifting up the crowd and leading them to inspire change.
The March For Our Lives is an event that everyone should support to enact a real change in Washington D.C. and in schools all across the nation. The fact that some pretty important people will be speaking at the LA march is only an added bonus to this worthy cause.