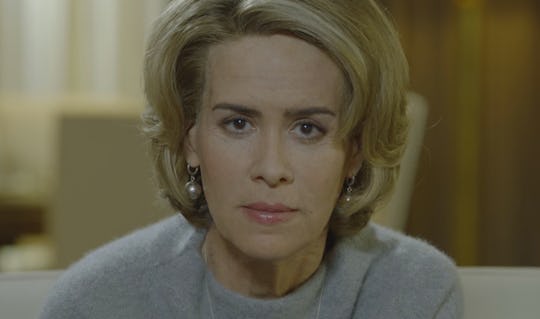 FX
'AHS: Cult' Revealed A Direct Connection To 'Asylum' In The Finale
What makes American Horror Story so unique is that it's an anthology, with each season introducing viewers to a whole new place with villains who one-up those from the previous season. Not only that, but Ryan Murphy revealed years ago that all seasons of AHS are connected — and the finale of AHS: Cult only helped to further prove that point. There was a Lana Winters reference on AHS: Cult that connects this world to that of Asylum in an unexpected (but extremely cool) way — which is such a Ryan Murphy move, seeing as both characters are played by Sarah Paulson.
In case some people missed the reference, here's what went down: Ally, who's running for senate on the platform to make the United States the opposite of Kai's vision, got a call from Rachel Maddow's people (of course) asking her to appear on the show. Ally's new girlfriend, Erica, said she should consider it because she's become such a feminist icon for escaping Kai's cult. Apparently, every journalist out there has been wanting to talk to Ally about her experience. To Erica's comment, Beverly said, "If she turned down Lana Winters, what makes you think she wants to talk to Rachel f*cking Maddow?"
Boom goes the dynamite. Cult viewers who didn't watch AHS: Asylum (or who just forgot since it was way back when in Season 2) may be wondering, who is Lana Winters from AHS: Asylum exactly? She was an investigative journalist who wanted her next exposé to be about the titular asylum, Briarcliff Manor. Lana was caught and institutionalized herself and became the next obsession of the serial killer Bloody Face, who (spoiler alert) turned out to be a doctor in the asylum. Lana was such a badass that not only did she escape Bloody Face, but she wrote a book about her experience. She went on to become a wildly successful journalist and even won a Kennedy Center honor. As the lone survivor of Asylum, she became one of the only characters in AHS history with an actual happy ending.
This wouldn't be the first time she's appeared on AHS outside of Asylum, though. Lana Winters was also in the finale of AHS: Roanoke, where she interviewed Lee — the lone survivor of her season. Asylum took place in 1964, so Lana is bit older in these seasons that take place in the present day. She has made a career of interviewing important people, so it makes sense that she would want to interview Ally after everything she went through. Ally, unfortunately, denied Winters as she denied all the other journalists hoping for a scoop. But what an amazing interview that would've been! If AHS: Cult actually portrayed an interview between two different Sarah Paulson characters, I would've been satisfied for life, probably.
But alas, the scene was not meant to be. But now we know for sure that Cult is directly related to Asylum, which is also directly related to Roanoke through Lana Winters. All the ways Cult is connected to past seasons hasn't been deciphered yet, but Asylum is very much enveloped in the AHS universe. How is Asylum connected to other AHS seasons? Some patients overlap; for example, Pepper was in both Briarcliff and the circus in Freak Show. The Nazi doctor from Asylum was also seen in his younger years in Freak Show. I'm excited to see how Cult will be further interwoven with the prior seasons; I'm sure once the finale is over, fans on Reddit will be writing up all the clues. For now, though, I'll take another moment to imagine an interview between Sarah Paulson and herself.
Check out Romper's new video series, Romper's Doula Diaries:
Watch full episodes of Romper's Doula Diaries on Facebook Watch.