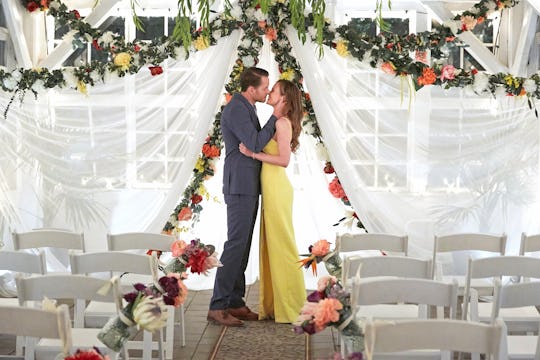 2019 Crown Media United States LLC/Photographer: Ryan Plummer
If You Need A Fun-Loving Cast Check Out This Hallmark Movie ASAP
When a network like Hallmark rolls out a string of themed-movies (Christmas, Valentine's, etc.), you know exactly what you're going to get: a feel-good flick with talented actors. The network is nothing if not consistent with content and the June Weddings lineup is no different. The list of actors may not all be the biggest names in the biz, but they're worth checking out. The Last Bridesmaid cast will remind you how to fall in love again.
The wedding-themed Hallmark film is executive produced by lead actress, Rachel Boston, and was partially inspired by her real life experiences. She previously told Hidden Remote, "The bulk of it did start at my brother's wedding. I was the maid of honor and everyone at that wedding started asking me, because I've done so many wedding movies, when are you getting married?"
As for what the movie is about, Boston plays Becca — a woman participating in her 10th wedding as a bridesmaid to her cousin Lucie. During all the events leading up to the big day, she unexpectedly falls for the videographer, Kyle (played by Paul Campbell) and finds her happy ending after all. The entire cast of The Last Bridesmaid is phenomenal and might make you wish you could slow dance at someone's wedding reception soon.