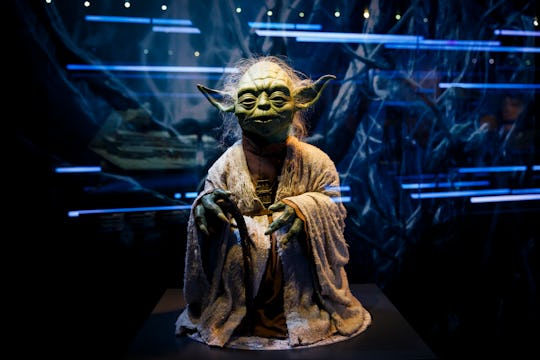 Tristan Fewings/Getty Images Entertainment/Getty Images
'The Last Jedi' Jokes & Memes Are Hilarious
Well it's official, the title for the next installment of the Skywalker saga has been revealed by Disney. The movie will be called Star Wars: The Last Jedi, and will be executive produced by J.J. Abrams. But in the world of Star Wars more than any other, it's social media who gets the last word on these matters. And true to form, just minutes after the announcement, The Last Jedi jokes and memes already started getting circulated around Twitter.
According to Disney, Star Wars: The Last Jedi will be released on Dec. 15, 2017. That's almost 11 months fans will have to speculate about the new film.
The most hotly anticipated aspect of The Last Jedi is whether this is reference to Luke Skywalker. According to ComicBook.com, in Return of the Jedi, just before Yoda dies he tells Luke Skywalker he will be the last Jedi. ComicBook.com also pointed out that Supreme Leader Snoke also makes a reference to Skywalker as the "last Jedi."
But there's another angle to consider; according to Star Wars scholars, Jedi can be plural, meaning, in that case, that the title could refer to more than just Skywalker. No matter where you come down on the matter, t's an exciting day for Star Wars fans on Twitter. So let's take a look at how some of them are marking the occasion.
Animals Who Look Like They're Using Lightsabers Are Irresistible
Just Putting It Out Into The Galaxy
Yes, There Will Be 11 Months Of Horrible Anticipation
And Star Wars Die-Hard Fans Are Looking Forward To Every Second Of It
Remember, The Plural Jedi Is Jedi
The Internet Was Definitely Ready For The Next Movie Even After Rogue One
Will Skywalker Make It Out Alive?
Plenty of Plot Theories
And Jokes For Days
Mandatory Jar Jar Binks Shout-Out...
Judging by the social media reaction the new team behind Star Wars the new announcement delivered exactly what fans are looking for — some new Star Wars action to get excited about.
The previous Star Wars film, The Force Awakens, leaves Rey, it's star, on the top of a mountain, after seeking out Luke Skywalker, according to Entertainment Weekly. The plan, the movie suggests, EW reported, is for Rey to receive Jedi training from Luke. So if Luke trains Rey to be a Jedi, and the next movie is called The Last Jedi, maybe Luke really is going to be killed off in the upcoming release. It's safe to bet this is a topic that will continue to get much attention leading up to next December's big premiere.