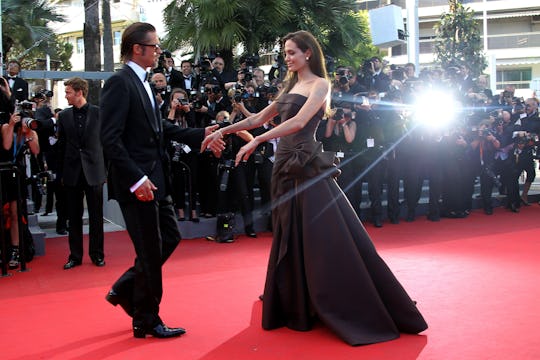 VALERY HACHE/AFP/Getty Images
The Last Photo Of Angelina Jolie & Brad Pitt Together Is Sadly Not A Recent One
On Tuesday morning, TMZ broke the hearts of thousands when it reported that Angelina Jolie has filed for divorce from Brad Pitt after 12 years together. Reactions on Twitter were a mixture of jokes about Jennifer Aniston, real sadness that the Hollywood power couple doesn't seem so powerful anymore, and nostalgia for some of the couple's adorable moments throughout the years. What is reportedly the last photo of Angelina Jolie and Brad Pitt together is adorable, but it's not recent.
According to the UK Mirror, Jolie and Pitt were last photographed together in August, when they went out to dinner to celebrate their wedding anniversary. Their twins, Vivienne and Knox were with them, and they can be seen smiling and looking generally happy during the meal. Click here to see the photos, which were taken by paparazzi and credited to Xposure by Mirror. Prior to that, there are other photos on gossip websites of them traveling with their children. But it's not easy to find photos of the couple in the last few months, at least apart from that dinner in August. Pitt released the following statement regarding the divorce, according to People:
I am very saddened by this, but what matters most now is the well being of our kids. I kindly ask the press to give them the space they deserve during this challenging time.
Pitt and Jolie's representatives have not responded to Romper's requests for comment.
Now that news of the divorce has come out, it's not exactly surprising that there aren't many photos of the couple available. And it now also makes sense that they didn't attend the Golden Globes together in January; Pitt actually went to the Globes alone, according to Hollywood Life. A source told Hollywood Life at the time that, after going alone to the Globes, Pitt was hoping Jolie would attend the Oscars with him. But, when the red carpet was rolled out, neither Pitt nor Jolie were spotted. Most photos of them captured from awards shows and red carpets are from at least one year or more ago.
For fans of the couple and non fans, Twitter agreed that the end of the romance was an important issue (albeit maybe in a joking way).
Though some people were not happy that lots of fans and those who were "Team Jen" were waiting around for Jennifer Aniston's response:
And others just really, really wanted to mourn one of the most powerful couples in Hollywood.
Others just gave up and resorted to blaming Donald Trump, because who else could be behind such madness?