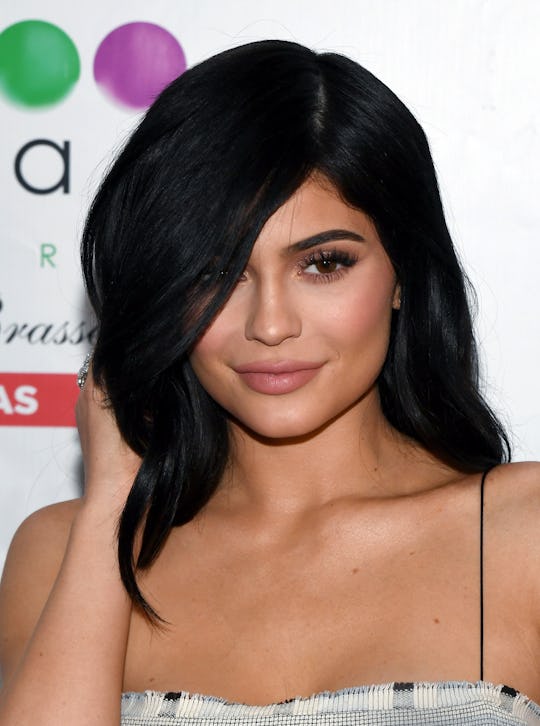 Ethan Miller/Getty Images Entertainment/Getty Images
The Latest Kylie Jenner Pregnancy Updates Will Confuse You Even More
Snap-happy Kylie Jenner has been notorious for teasing fans about pregnancy rumors over the last few months, but the 20-year-old lipstick mogul has kept mum about almost anything related to her and boyfriend Travel Scott. For that reason, it's unclear whether you can trust the latest Kylie Jenner pregnancy updates, but, regardless, I'll catch you up to date on this developing urban legend.
Sources first said that Kylie was due in February but that she just hasn't yet publicly announced the pregnancy herself, according to Teen Vogue. But then photos taken in September surfaced showing off the Keeping up With the Kardashians star's belly, and it threw off everyone's timeline of her rumored pregnancy, according to Hollywood Life. Now fans are suspecting that she was due sooner... by New Year's Eve even.
Let's take a step back because this secret has been going on for a minute. Kylie first started posting photos covered up — like, very covered up — in October, which made followers suspicious, according to Cosmopolitan. We're talking massive winter coats, despite the fact that Los Angeles whether does not warrant winter coats of that kind, as well as super-sized button-downs. These photos come in stark contrast to the star's usual posts, which often show her stomach.
Also in October, Kylie posted an image of three phone cases from The Kylie Shop, her online merch destination — two pink and one blue. The caption? "Which one? I'm thinking blue..." with a blue heart emoji. Of course, Twitter was crawling with speculators who assumed she was revealing the sex of her baby. Then Kylie posted two Snapchat videos with the caption, "Nothing's gonna hurt you baby." In the videos, she's sitting poolside listening to "Nothing's Gonna Hurt You Baby" by pop band Cigarettes After Sex. Kylie kept her stomach hidden, choosing only to show her bare legs and face. She'd even once teased fans by alluding to the age-old "bun in the oven" phrase when she sent a Snapchat picturing three cinnamon buns.
In November, Kylie took to her app to share all the reasons she was feeling grateful ahead of Thanksgiving. She posted a photo captioned, "Thankful for these babies," except she wasn't talking about any baby with boyfriend, Travis Scott. She was talking about her dogs. The following month, the Kardashian Christmas card had fans on the edge of their seats waiting for Kylie to make her debut in one of the 25 photos released once a day leading up to Christmas. But she never showed...
So is she pregnant? Honestly, it's still so unclear. But an "inside source" told Us Weekly as recently as Wednesday that Kylie is reportedly "very happy about the pregnancy" but doesn't want to share it with the world. "She spent her adolescent life on television and has been famous for over 10 years," the source said. "If this is the first thing she wants to keep to herself, she should be allowed that."
Of course, Kylie owes fans nothing and, if she really is pregnant, I can't blame her for wanting to experience and enjoy it without all the cameras.
That said, the star also recently appeared in the KENDALL + KYLIE SS18 campaign for her and sister Kendall's latest footwear collection for Forever Unique, and there is no sign of a baby bump, according to Cosmopolitan. She's featured in a number of shots for the campaign, wearing an array of tight clothes including a hip-hugging black satin slip dress and even a corseted white T-shirt. Some fans are therefore questioning when the shoot was actually done or if Kylie is perhaps not pregnant after all.
Meanwhile, there are also a few fans who still believe the Kylie has already given birth, Us Weekly reported, meaning the photos could have been taken recently. The hypothesis was born when Kylie's sister Khloé Kardashian confirmed that she was about six months along, according to Hollywood Life. And because Kylie's pregnancy was reported first, that'd mean that Kylie must have already delivered.
Some are tweeting, "At this point i wouldn't be surprised if @KylieJenner already gave birth," and "OK I'm calling it now @KylieJenner has already had her baby and it's a girl." Another fan tweeted, "Kylie jenner has probably given birth to a baby boy who's again probably making more money than you'll ever have in your life."
Throw fans a bone, Kylie?
Check out Romper's new video series, Romper's Doula Diaries:
Watch full episodes of Romper's Doula Diaries on Facebook Watch.