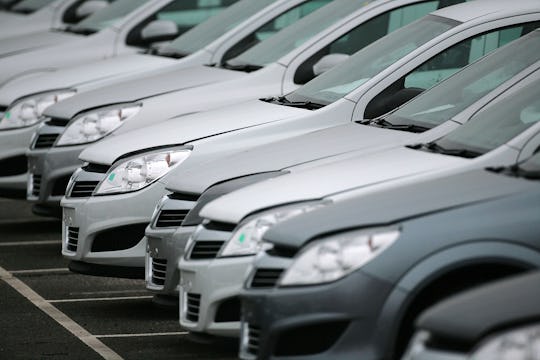 Christopher Furlong/Getty Images News/Getty Images
Hot Car Deaths: What Merits Charges?
Each year, the warm, pleasant promise of summertime pool days and cookouts ushers in an insidious side to the season: The media reports of parents and other caretakers leaving their children in hot cars, a horrible mistake or, less often, an egregious intentional crime. And one of the first cases of this awful trend in 2017 is that of 19-year-old mom Amanda Hawkins, whose two toddlers died last week after she allegedly left them overnight in a hot car that was baking in the San Antonio, Texas, heat. And because of indications in the official police account of events — including the allegation that Hawkins lied about why her daughters were ill shortly before they died — the latest tragic hot car deaths have prompted questions about sentencing and jail time.
According to an official press release from the Kerr County Sheriff's Office, Hawkins and an unnamed 16-year-old brought the girls — 1-year-old Brynn Hawkins and 2-year-old Addyson Overgard-Eddy — to the hospital Wednesday, both in "grave condition." Hawkins initially claimed that the girls had collapsed after smelling flowers during an outing to nearby Flat Rock Park. Investigators soon determined, however, that their condition was the result of having been left in a SUV from Tuesday night until around noon Wednesday, a total of about 15 hours, while Hawkins allegedly visited with friends at a residence where the vehicle was parked.
As a result, Hawkins has been charged with two counts of abandoning and endangering a child, but Sheriff W.R. "Rusty" Hierholzer wrote that the charges could be upgraded once the case lands in front of a grand jury. And that moment can't come fast enough for some watching the case, as comments on the Facebook post containing Hierholzer's statement illustrated.
"Disgusting behaviour - charges should be upgraded to 1st degree murder," one person wrote. Another chimed in: "Charges could be upgraded? No. This needs to have some type of murder charges! There is never a good EXCUSE in leaving a child in the car. Make matters worse, TWO!"
In an interview with San Antonio ABC affiliate KSAT, Hierholzer shared another disturbing detail: That people in the house had allegedly heard the two girls crying out in the car. When they told Hawkins to bring them in, she allegedly answered, "'No, they're fine. They'll cry themselves to sleep.'"
To one Facebook user, that meant the others may have been partially responsible for the girls' wellbeing, too (though none of the others in the house have been arrested in connection to the incident and played no official role in the matter, it's important to note). "All of the People in the house, in which this 'mother' stayed overnight knew that the children were outside in the car," one person wrote. "Therefor [sic] those People have to be punished the same."
Perhaps the outrage in this case stems from the fact that Hawkins allegedly seems to have known what she was doing when she allegedly left her daughters in the car, and reportedly did not get them medical attention immediately when she realized how badly they had deteriorated. Much of the time, parents who leave their kids in the car blame a memory lapse — a stomach-churning but still more palatable explanation than doing so purposely.
In fact, not all of these cases are prosecuted. In an analysis of hot car death cases between 1990 and 2014, KidsandCars.org found that no one is charged 39 percent of the time a child dies after being accidentally left in a car, and only 28 percent of instances end in conviction. When the parent is ruled to have known what they were doing when they left the kid in the car, the conviction rate is higher at 60 percent. A prime example of that is Georgia dad Justin Ross Harris, who was found guilty of murder and other charges after his 22-month-old son spent seven hours in a hot car and died as a result three years ago.
Often, though, the outcomes for these deadly actions appear arbitrary, as KidsandCars.org director Amber Rollins said in the website's report:
What we have found is that there is really no rhyme or reason to whether a parent is charged or not and if they're convicted. You can have two exact same circumstances in two separate cases, and in one case a parent might not be charged at all and in another case the parents are charged to the full extent of the law.
Hawkins' case is still unfolding, and the public will learn more about her motivations and true intentions as her criminal proceedings move forward, assuming they do. But the situation should be a reminder to parents — even those with the best of intentions — to keep the dangers of the hot car in mind every day of the year.