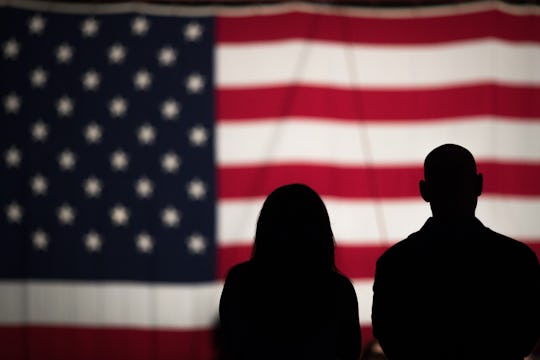 Drew Angerer/Getty Images News/Getty Images
The Law Bans IVF For Veterans, But That Could Finally Change
On Wednesday, a joint Senate-House conference committee met to discuss the Military Construction and Veterans Affairs Appropriations Bill (dubbed the MilCon bill). While the Senate version of the MilCon bill was passed 23-7 with bipartisan support in favor of the bill, the conference committee must meet to resolve differences between both the Senate and House versions of the bill before it can head to the president for signature. One of the key issues at stake includes lifting the ban on IVF for veterans, finally overturning a 24-year-old law that many lawmakers want to see ended — and that is harmful to veterans across the country.
Ending the IVF ban for veterans could have huge implications for couples like 32-year-old Crystal Black and her fiancé, 31-year-old Tyler Wilson of Denver, Colorado. In 2005, Wilson was shot four times while deployed with the U.S. Army in Afghanistan, leaving him paralyzed from the waist down when he was just 20 years old.
"Very soon after we started dating we began having the conversation of how a family would be possible since we both so desperately wanted children of our own," Black tells Romper. It was then they discovered that the one agency that could have helped them — the U.S. Department of Veterans Affairs — was actually banned from offering IVF as a benefit to veterans.
"We feel absolutely disheartened that Tyler — who has already given up so much in service to this country — is now being abandoned when asking for the medical care he needs," Black says. Black and Wilson's story illustrates an unfortunate and frustrating gap in coverage for vets when they come home.
Speaking to Romper, Barb Collura, President and CEO of RESOLVE: The National Infertility Association, says the Department of Defense offers IVF benefits to wounded service members, but only to active duty service members. Collura describes the unique catch-22 that exists in the transition from the DOD system — where IVF is covered — to the VA health care system, where IVF is not:
Think about it: You are wounded, you are getting care — maybe you need rehab, maybe you are wrapping your head around life now with your injury. Maybe you don't have a partner or are not ready for kids. You are injured so you can't go back to work; they [the DOD] are working to release you and move you over to the VA health system. Then you find out the VA doesn't offer that same benefit.
And right there is the gaping logical and moral disconnect caused by the VA ban on IVF: Our servicemen and women are voluntarily willing to give their lives fighting for the country and American families — but when they return home, the very agency that should help them have families of their own is legally banned from doing so. The VA did not immediately return Romper's request for comment.
"These men and woman want only the very basic right to start a family and move forward in their lives," said Ryan Kules, Combat Stress Recovery Director for the Wounded Warrior Project, when he testified in March before the House Committee on Veterans Affairs. "War took that away from them, and we should not place them in the position of paying tens of thousands of dollars if they want to get it back."
It's an issue that Black and Wilson understand all too personally: They have just undergone their first cycle of IVF, having spent $14,000 out of pocket for their chance to build a family. IVF can cost as much as $17,000 or more per cycle, but Black and Wilson were able to offset their out-of-pocket costs by successfully crowdsourcing some of the funds, securing three family-building grants, and utilizing a discount from their fertility clinic. "We are hopeful that this cycle will work," Black says. "We have to keep our hopes on that, because we have already exhausted all financial resources to make this one shot possible."
The good news is that the Senate version of the MilCon bill, which would end the ban on IVF for veterans, has already passed with wide bipartisan support, including the support of key Republicans such as Senate Majority Leader Mitch McConnell of Kentucky and Sen. Thad Cochran of Mississippi, Chairman of the Appropriations Committee. The issue now is that the conference committee must resolve differences in the House companion bill, most notably the inclusion of language that would end the VA ban on IVF.
There is hope from some insiders on the Hill that the committee will have something to send to the president by July 4 — but there's no official word yet on just what will come out of the joint conference committee reviewing the MilCon bill — and more importantly, whether language lifting the IVF ban for vets will make the cut. "It's a big unknown right now," Collura says.
For Black and Wilson, they are equally in the unknown as they await both the results from their IVF cycle and the MilCon bill. As they wait, Black urges Congress to remember not only on what they are voting, but for whom:
They should not deny these men and women who have given up all of these things to protect all American families — including those of Congress — the right to have a family of their own.