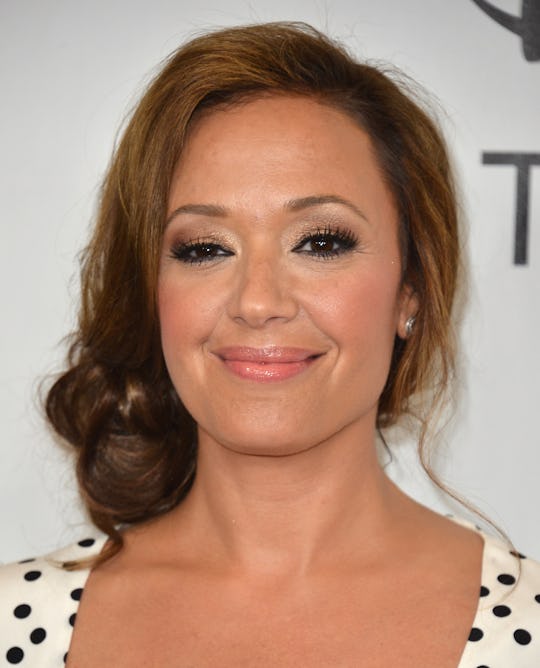 Alberto E. Rodriguez/Getty Images
The Leah Remini Interview On Scientology Was Juicy, & Here Are The 6 Most Bizarre Things We Learned From Her '20/20' Special
Leah Remini severed ties with the Church of Scientology in 2013, and now she's telling all. (And it's juicy, you guys!) In a sit-down interview with 20/20, Remini spoke candidly about her decision to leave Scientology, sharing insider secrets about the religion that once drove her life, from the "roach-infested rooms" where she did her Sea Org training as a child to the now-infamous issues she caused at TomKat's wedding, and finally, to exactly what led up to her saying sayonara to 30-plus years of membership with L. Ron Hubbard's infamous religion.
I both love and loathe celebrity tell-alls, because I am a human and I love celeb gossip and secrets and drama, but also because I feel bad when they have to speak publicly on matters so incredibly personal to them. I get that yeah, in a way, they did sign up for this, but sitting down in front of a camera for the appeasement of millions of people is kinda toeing the line on vulnerability for me. When I heard the King of Queens star was sitting down for an exclusive interview to promote her upcoming book, Troublemaker: Surviving Hollywood and Scientology, though, all I felt was excitement. Genuine, pure excitement, and a lot of "Oh girl, you tell 'em" feelings. The Church of Scientology has a long-standing history of viciously tearing apart its outspoken critics, as well as carrying out meticulously planned attacks on famous members who've left its ranks. So when Remini said she "wanted to be the one to say it" first — wanted to be the one who said all the bad stuff the Church would inevitably say about her — before the Church had the chance to, I was already halfway committed to giving her a standing ovation. 
On camera, she was cool and composed. It's been almost two years since leaving the Church of Scientology, but you could tell just how deeply Remini's feelings on the matter run. She did sign a billion-year contract to the Church (yep, that's a thing) and was only 30-plus years into her membership before cutting the cord, so it's easy to understand how difficult this all must still be for her. The 20/20 exclusive was replete with everything that makes celebrity tell-alls so addicting: there was drama, millions involved, and of course, Tom Cruise.
You ready? Let's do this. 
She Credits Scientology For Her Early Acting Success.
One of the things I found most understandable was that Remini gives credit where credit is due. She said that, at the beginning of her career, she would walk into auditions without feeling terrified and ill equipped for the roles she was vying for, thanks in large part, to her Scientology teachings. She told Dan Harris that many of Scientology's tools, like Clear Communication and auditing "are very, very helpful to you in your life, that are helpful to you as an actor." As for auditions, "I walked into a room where some people might cower in front of a casting director — I wasn't."
Despite their very public falling out, it's cool that Scientology have Remini the confidence to succeed, and to feel like she was putting herself out for roles that she deserved.
She Shouldn't Have Gotten An Epidural.
One of Scientology's most popular teachings is that women in labor shouldn't use any medicine to aid in labor pain relief. (I know. I know.) While the choice should be wholly up to the woman herself, Scientologists believe that pain and unconsciousness can effect a person later on it life. The practice is called a "reactive mind," and according to Belief Net, stems from L. Ron Hubbard's teachings on the mind and spirit. Remember when Katie Holmes was pregnant with Suri? There was a famous will she, won't she? debate over whether or not she'd have a silent labor, rumors which her then-husband put to rest pretty quick. Talking about silent births, Cruise said, "It's basically just respecting the mother, you know, and helping to be quiet — not the mother. The mother makes as much noise ... you know, she's going through it. But why have other people make noise? You know, you want that area very calm and to make it very special."
He added that no matter what the Church believes or what he personally believes, the choice was up to Katie, which TBH, kind of super respectable for the dude. "Whatever the woman wants, he told ABC. "I'm not gonna tell Kate ... you know, if she needs an epidural, she's gonna get her epidural."
Remini, though, didn't hesitate before choosing to go ahead with medical interventions. She told Harris, "I was going to attempt to do it for my Church, but when you start feeling a baby coming out of your vagina — if there was a rock, I would have hit myself on the head with it." Granted, I've never pushed a human out of my body, but I'm here for you, Leah. Do you. "So I got that epidural as quickly as possible." Amen.
Scientology Wanted To Recruit J.Lo Real Bad.
OK, so no official word on this from the Church, and Remini truthfully just provided her opinions on all speculation, but it was really interesting to hear her give color to the rumor that Scientology was trying hard to recruit J.Lo and her husband. Apparently, Remini said, it was the Church who really wanted Jenny from the Block and her then-husband Marc Anthony at Tom Cruise and Katie Holmes' wedding. Along with a star-studded list of attendees, it sounds like Remini felt that Scientology's top echelons were trying hard to sweeten up the star.
TBH, can't fault Scientology here. Would want J.Lo on my team too. But what did bother me was that it sounds like every possible effort was made to keep Leah and J.Lo apart. She told Harris, "They were always trying to extract me. I could only assume because they wanted to make Jennifer a Scientologist and maybe I was barring that road for them."
Tom And Katie Got Her In Trouble. Twice.
This was probably two juiciest moments of the entire interview. First, Remini says that she was written up after having pretty vocal feelings about Tom and Katie's PDA. Remini says she was asked to come over to give Tom salsa lessons, and when she made a comment about the two of them needing to "get a room," she says she was written up. 
Ouch.
Then, after their very public courting and engagement, Tom Cruise and Katie Holmes famously married in an Italian castle in a super lavish three-day whirlwind ceremony that, unsurprisingly, wasn't without drama. It's been reported pretty commonly that one of Remini's biggest beefs with Scientology's leader David Miscavige was that he kept showing up places sans his wife, Shelly, and no one really seemed to think that was odd. When he came to TomKat's wedding, Shelly was nowhere to be found, which, Remini says, starting ringing off alarm bells for her left and right. But not everybody loved the fact that she was asking questions. 
"Shelly was always where David Miscavige was," Remini told Dan Harris. "It was a wedding of the century… it was like, 'where's Shelly? There's a Sea Org member sitting next to me from David Miscavige's office and I'd go, 'where's Shelly?' It's such a simple thing. It's a big wedding that the leader of the Church is here and his wife isn't." After the affair had ended and everyone ended up back in the U.S., Remini said she found out that several Scientologists had filed Knowledge Reports against her. Why? "For being loud, late and rude, upgrading her hotel room and switching seats at the reception." Among the reports, Remini said there was one from Katie Holmes. While Scientology has yet to confirm or deny that the document exists, Remini told 20/20 that Holmes' report said Katie was "dismayed at the behavior of Leah Remini during the events leading up to our wedding ... At the wedding, the behavior as a guest, a friend ... was very upsetting."
Holmes released a one-sentence statement on the whole issue through her publicist, and while she wouldn't confirm or deny the document's existence, she did apologize to Remini for whatever had gone down in the past. "I regret having upset Leah in the past, and wish her only the best in the future," the statement read. 
You Aren't Supposed To Read The Bad Stuff About Scientology.
Yeah, this is real. It's almost like the Church wants to keep its followers well in the dark about the things its biggest critics have to say about its policies and its practices. Because of that, Remini told ABC that members are discouraged from Gooling the Church and reading all of the "outlandish" and "utterly false" information.
Little did they know that it was only adding fuel to Remini's blazing fire. After reading up on the Church and about all of the families torn apart, Remini said, "I was heartbroken for myself, for my family. I didn't want these things to be true."
When She Left The Church, Her Family Did Too.
Scientologists practice disconnecting, which means, if someone is acting out of line with what they believe, or decides to leave the church, you can't associate with that person any longer. So when Remini decided to sever ties, there was a lot more at stake than just headlines and name-calling. Leah Remini also risked losing her husband, her sister, and her family if they decided to stay with the Church after she left. Though she admitted to being pretty unhappy with the Church, "giving up everything you have ever known and everything you have worked for your whole life" wasn't exactly easy. Unfortunately, too much had happened, including reports that Sea Org member called Remini a "bitch," which, not OK. Not ever.
"I'm ready to walk away from everybody that I've ever known and cut ties with my own husband, my own mother, because you don't know what they're going to decide," Remini told Dan Harris. "Very often, my experience is people choose the Church." But her family chose Leah, and that rules. 
Images: Giphy